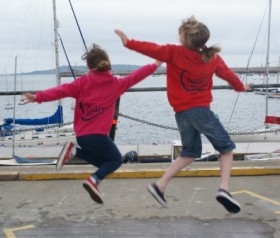 We happily welcome all Junior sailors between the age of 8 – 18 years to become a Junior Cadet Member of the Club. This summer your child can join the Royal St George Yacht Club for only €50 for the first year of membership!
If you are a full Ordinary member and you would like your child to join the Club as a Junior Cadet Member simply download and fill out the attached Junior Cadet Membership proposal form, have your child sign it and return it to the Club.
Junior Cadet Membership proposals are read and elected by the Committee on the last Wednesday of the month. Junior Cadet Subscriptions are only €50 for the first year of membership which includes an access card in the Cadet's name for the Club and changing rooms and the use of the Junior Room.
We are happy to assist with any questions you might have – please contact Reception on 01 280 1811 or email sec@rsgyc.ie