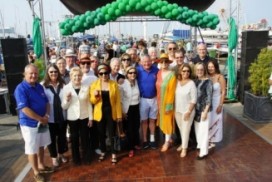 The Royal St George Yacht Club hosted its Gathering party for Overseas Members and Members of our Reciprocal Clubs
As a remarkable and happy coincidence "The Gathering", a yearlong party about welcoming our diaspora to Ireland, coincides with the 175th anniversary of the founding of the Club in 1838. For that reason, we decided to host a special Gathering Party as part of the Volvo Dun Laoghaire Regatta in July.
Overseas Members and the Members of our Reciprocal Clubs were all invited to enjoy the glorious sunshine, Irish dancing and music. There were Tullamore Dew cocktails a plenty and our Executive Chef created beautiful Irish themed canapes especially for the event. Members and guests travelled from as far as Australia, Bermuda, and Portugal and many of our friends from The World were able to attend.
This was a wonderful opportunity share stories from around the world, to renew old friendships and make new ones and most importantly welcome all our Overseas Members and friends "home" to the Royal St. George Yacht Club.
The event was hosted by Brian MacManus, Chairman of the Reciprocal Club's Committee and he would always welcome suggestions relating to new Reciprocal Clubs. The full list of Clubs with which we have Reciprocal Membership can be found here.
Many thanks to Mark Bennett from The World for the picture.