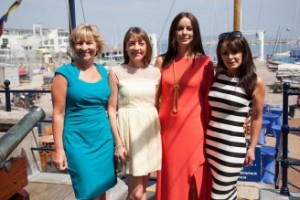 Members and guests of the Club enjoyed a fabulous and fun afternoon including a prosecco reception and an al fresco fashion show on the sun drenched balcony.
The ladies of the Royal St. George were thoroughly spoilt on the 13th of July at the Brown Cow Best Dressed Ladies' Lunch as they sipped Prosecco in the warm afternoon sun while viewing the latest styles in our fashion show.
The fashion show (and the day's proceedings!) were MC'd by Stylist and Personal Shopper Sally-Ann Flanagan. The cloths were all from Elli Boutique in Sandymount and the shoes from Cinders in Ballsbridge. The four 'George' models all had their hair and makeup done by Aidan Fitzgerald in Blackrock.
Following the fashion show, there was a delicious three course lunch and our raffle extravaganza! There was an array of amazing prizes in aid of a very worthy cause – The Laura Lynn Hospice. The ladies' were incredibly generous and in all, over €2,400 was raised.
The highlight of the afternoon was the announcement of the three best-dressed ladies; this competition took in all of the ladies from the Royal St. George and the National Yacht Club. An RSGYC lady took the crown and the €1,000 Brown Cow pampering voucher. The two runners up walked away with a €250 and €500 voucher respectively.
The ladies' all left with a jam packed goodie bag including treats such as an Image magazine, vouchers from a number of our supporters including Brown Cow, Aidan Fitzgerald and Sunway and products from Pixy and Vita Liberata.
Many thanks to all of our sponsors and supporters for making this event such a success.