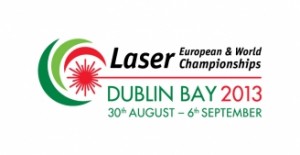 The RSGYC's Laser European & World Championships Event Organiser's report.
After a fantastic week long regatta in Dun Laoghaire at the 2013 European Laser & World Championships, Annalise Murphy won the 2013 European Laser Championships and  Finn Lynch captured the U21 World Championship trophy. Both sailors put together consistently good results in conditions that varied from 5 to 25 knots to beat the best sailors from 44 countries. Con Murphy and Jack Roy and their teams had a flawless week where their courses helped ensure competitive racing to a world standard. Our own George sailors found the standard very high but gained great experience from the event  – Dan O'Beirne making the best impression in the Gold fleet.
From the opening to the closing ceremony, it was a week where the Club's Members showcased the two clubs to all 44 participating nations. In the George, we had over 30 volunteers working on everything from the forecourt design, to beach master & slip duty, to boat measurement, to helpdesk and to mark laying – the result is some great feedback from many of the visiting boats on the racing, the pasta when they came ashore and even the slip where often there seemed to be more volunteers than sailors.
The Club cannot build this kind of event without  having lots of dedicated volunteers – thanks to everyone who contributed.
Regards,
Rob Cahil
RSGYC Laser European & World Championships Event Organiser
Overall Results: Click here.