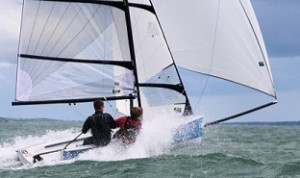 Despite the absence of wind forecast, and despite Charlie Horder not showing up, the weekend turned out to be a roaring success, with ever reliable Robin Gray as PRO slotting the perfect duration races into the various wind slots that existed, giving the three fleets great racing.
It was exciting to see some new faces in the RS Fevas, since McCready Sailboats took over dealership, and have been promoting and lending out boats. All 6 of the boats, in the fleet that normally travels from Dublin or Greystones, were from the North. This must augur well for the future, with several parents present realising they could have actually have been sailing in the 400s instead of acting as shore crew.
In the RS200s, Clive Coffey from Newcastle, was dominant in the generally f2-3 conditions, taking first overall from Greystones regulars Frank O'Rourke in second, and Sarah Byrne in fourth, with East Down's Trevor Fisher splitting them in third.
The main event though was in the RS400s, where a super strong line up including current Irish Olympic 49er sailors, and winners of this year's Weymouth Sail for Gold World Cup Series' Championship, Ryan Seaton and Matty McGovern headlined a strong line up of past National and European Championship winners from a multitude of classes.
Racing was tight, with the front 6 or 7 generally working through, but with anyone capable of making a podium slot. Overnight it looked to be all about Bob Espey vs Emmet Ryan, but Sunday saw things get a lot tighter, with Gareth Flannigan and Dave Cheyne staying consistent, and nearly turning things around in race two, when Flannigan's lead was slashed on the final run of race two, in what would prove a decisive moment, allowing the Olympic duo a little breathing space as the 3rd,4th and 5th boats rolled the leading pair on the final approach, Espey grabbing  an essential win. Race 4 saw Emmet and brother James struggle and take a discard, so it was advantage Espey/ Gunning again.
Race 5 was held in sparkling Ballyholme sea breeze and sunshine, with Dave Cheyne and Stevie Kane from RNIYC breaking clear of the pack, chasing the Ryan brothers. As the two teams extended, it looked like the goose was cooked for Espey, but a last attack on the right corner gybe allowed the fat old boys from Royal North to roll Ryan, and take the win. This instantly threw the result back to Espey and Gunning, who were suddenly back level on points, but with a pair of bullets, to the Ryans only one now, the title went to Espey in dramatic fashion, and past Irish Champions Emmet and James left to lick their wounds. Awesome racing as ever, with some new faces feeling the heat, as those new in last season starting to move up the leaderboard after a year of hard racing under their belts.
Lots of new boats arriving by the week, with several more expected in Ballyholme in time for the Autumn Grange Wine Merchants Series at Bangor on Sundays from the 8th September, before the fleets head to Crosshaven on September 21/22nd. The hope is the 4 or 5 potential new 400 owners in Monkstown SC in Cobh will have boat boats in time, to compliment the new arrival of Aidan Macsweeney, and also Dave Doherty who currently have boats in the area.
Results here: