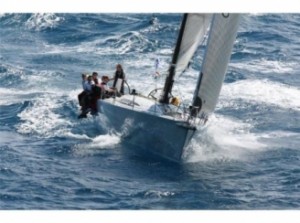 RSGYC Club Member Adrian Lee aboard his boat Lee Overlay Partnersis preparing to challenge for the Dubai-Muscat race which starts at 0700 GMT in Dubai on November 3rd.
The 23rd annual Dubai-Muscat Sailing Race promises to be bigger and better this year when the first of the boats take to the water on November 2.
One of the most prestigious races organised by the Dubai Offshore Sailing Club (DOSC), the Dubai-Muscat is one of the main sailing races hosted in the region.
This year RSGYC Club Member Adrian Lee will be racing 'Lee Overlay Partners' his Cookson 50 which is hot favourite to take Line Honours.Lee Overlay Partners has been specially shipped from the UK for the race.  Previously Adrian and his crew have won the Rolex Fastnet Race and the RORC Caribbean 600 and weather conditions permitting, could challenge the monohull course record, which has stood since 2000.
The race starts at the Dubai Offshore Sailing Club in the tidal shallows of the Arabian Gulf. After approximately 100 miles of tactical racing, the fleet will reach the Strait of Hormuz, one of the busiest shipping lanes in the world and the gateway to the deep waters of the Indian Ocean. The fleet then turn south through the Gulf of Oman. Racing the last 260 miles in open waters, along the mountainous coast line to the finish at Jebel Sifah near Muscat.
Weather conditions can be variable to say the least, The Shamal (North Wind) can bring sudden and rapid increases in the wind strength, sand and even thunder storms. During the day, the air temperature will be over 30 degrees but will fall rapidly during the night, which may cause land breezes to form. The route from Dubai to Muscat is definitely a challenging one with awe-inspiring scenery.
Lee Overlay Partners is expected to start at 11.00 Local 0700 GMT Nov 3 2013 Dubai for Muscat and is expect to finish Tuesday.
The race can be tracked as 'Lee Overlay Partners Cookson Class 1' at this link.
The RSGYC would like to wish Adrian & his crew the best of luck and winds for this great race.
Thank you to Sail-world.com for some of the above.