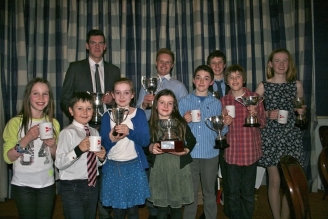 The evening of Friday the 18th of January at the Royal St. George Yacht Club was one of those great Club events that will keep in the memories of all who were in attendance for many years to come.
The Junior & Youth Dinner and Prize Giving is the highlight of the Junior & Youth Calendar with George Juniors & Youths joining together in the Dining Room for a dinner hosted by the Vice Commodore Justin McKenna and Junior Organisers Adrian Eggers and Sean Flanagan.
Over 110 Junior and Youth sailors attended the occasion and had a most enjoyable time. A delicious three course meal was served and enjoyed by all followed by the Prize Giving. After the photographs were taken there was an exodus to the Junior Disco in the Junior Room and the new 'Chill-Out' Room.
The 2013 Junior & Youth Award Winners were:
• Le Brocquy Cup: Best 1st Level     Alice Power Smith
• Toby Cup: Best 2nd Level     Kitty Flanagan
• McCarthy Cup: Best 3rd Level     Lyon Montgomery
• Arthur Chadwick Trophy: Best 4th Level    Sandy Aplin
• Junior Organiser's Trophy Spirit of Sailing Award  Cian Guilfoyle
• Sesquicentennial Trophy: Best Kept Boat   Hugo 'Carlisle' Kennedy
• Cox Trophy: Best International Racing Result   Conor O'Beirne
• Manna Cup: Best Asset to Junior Section   Ben Arrowsmith
• Asgard Award: Best All Round Junior    Patrick Lee
• Merit Boy Level 1 – Cert     Ross Mason
• Merit Girl Level 1 – Cert     Katie Killarney
• Merit Boy Level 2 – Cert      Trevor Bolger
• Merit Girl Level 2 – Cert      Amber Curran
• Merit Boy Level 3 – Cert      Lyon Montgomery
• Merit Girl Level 3 – Cert      Aifric O'Donnell
• Merit Boy Level 4 – Cert      Herbie Fowler-Hudson
• Merit Girl Level 4 – Cert      Alex Walsh
• Fun Prizes – SJL Biggest Super Jock legend  Dan Connors
• Fun Prizes – Man up Trophy    Morgan Lyttle
Thank you to Yvonne Ryan and the Junior Committee who were instrumental in bringing this successful event together, we are happy to report that sailors are already looking ahead to the 2014 event which will be hosted in September of this year.