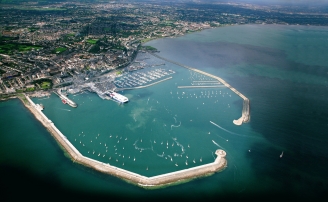 Our thanks to Afloat.ie and Honorary RSGYC member Mr WM Nixon for this interesting and thought provoking article which can be viewed in full here.
Dun Laoghaire's waterfront area and harbour is a hotbed of development and proposed projects. W M Nixon takes an outsider's view of what might be happening around Ireland's biggest sailing centre.
Your heart would go out to Dun Laoghaire. The perceptions which emerge from proposals for developments and new businesses along the waterfront definitely don't chime at all with the image of a place which once was known as Kingstown, and has its origins in the heights of gentility and middle-class refinement.
What are we folk from other ports to make of it all? We find sailing in through the entrance to savour Dun Laoghaire harbour's unique style a wonderful experience. There is nowhere quite like it, not just in Ireland, but anywhere else in the world. Yet rumours fly around about changes which could seriously impair the special character of the place. What are those of us who may not have the inside track on the true nature of actual and anticipated developments along the waterfront to make of it all?
Not to pull the punches, it seems that the Dun Laoghaire waterfront area is going to have an enlarged halting site for the Travelling community down towards the west pier. It's going to have an "urban beach" resort amenity for the sort of people who use such places within the harbour on the inner end of the east pier, thereby blocking off a very useful berthing space. And it's going to have the Dublin area's first Wetherspoon's super-pub right bang in the middle of the harbourside.
Set against Dun Laoghaire history and the elegant appearance of its better buildings, this would all seem bad enough. But that is to ignore the most enormous elephant in the room. This is the new public library, which has been put up with astonishing speed to block out much of the sea view from the Royal Marine Hotel. It towers over the entire waterfront with a prow which suggests that at last Ireland has her first aircraft carrier. But unfortunately for any strategic purposes and rapid peace-keeping in distant parts of the world, it happens to be very landbound in the midst of mostly pleasant smaller buildings which now seem utterly dwarfed.
Article continues here: