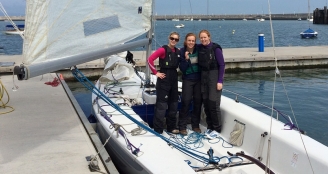 Mary O'Loughlin from the Royal St George Yacht Club and crew, will be representing both the club and the country in the upcoming ISAF Women's Match Racing World Championship 2014 from 3-8 July in the Royal Cork Yacht Club. Team IRL consists of Mary O'Loughlin (Helm), Lynn Reilly (main trimmer), Caoimhe Burns (trimmer) and Niamh McDonald (bow).
Post trials in early April, Team IRL is one of two Irish teams who were invited to participate in the ISAF Women's Match Racing World Championship 2014, within which teams from New Zealand, United States, Denmark, Sweden, France, Netherlands, the UK and Ireland will be competing for the coveted title of Women's Match Racing World Champion (see http://www.wimseries.com/ for further details). The event is being sailed in the ISA's Sailfleet J-80s and racing commences on 4th June in Crosshaven (see race programme at the following link http://www.matchracing.ie/programme-racing/).
If any Club Member is in Cork and is interested in viewing the racing, the course area for this event will be directly under Camden Fort Meagher. The Fort offers unrivalled viewing to families of the competitors, friends, supporters and the general public. On 6th of June the River Lee will play host to a one day special event, which will bring the international sailing competition and the top women match racers in the world to the heart of Cork City for everyone to enjoy.
Team IRL have been training intensively since qualification in the Sailfleet J-80's. As the J-80's are on their way to Cork for the event, the Royal St George Yacht club kindly facilitated a training weekend in 1720s for Team IRL over the weekend, which allowed Team IRL to train against the Irish men's teams helmed by both Peter Bayly and Simon Rattigan.
Good luck to Mary and Team Ireland from all at the RSGYC!
For the latest news and updates follow Team IRL on Facebook- click here.