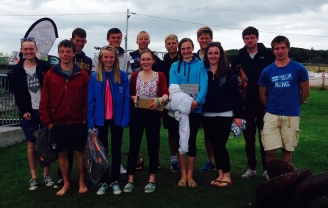 Left to right in pic of George sailors are Helen O Beirne, Greg Arrowsmith, Conor Little, Grace O Beirne, Stephen Craig, Paddy Lee,  Katharine Kelly,  Rory Simmington,Triona Hinkson, Tom Simmington, Clodagh Hinkson, Connor Foley and Ben Arrowsmith, representing the George sailors in the RS Feva and RS 200 classes.
A total of 13 teams from the RSGYC took part in the RS Nationals in Galway over the 8/9/10th August
Many congratulations to George members Stephen Craig and Conor Foley who came second in the RS200 fleet winning the ISA silver medal and also to Helen and Grace O Berine who won the silver in the RS Feva fleet, followed by Bronze winners Triona Hinkson and Katharine Kelly.
Event report for the RS Feva, RS200 and RS400 fleets available here.