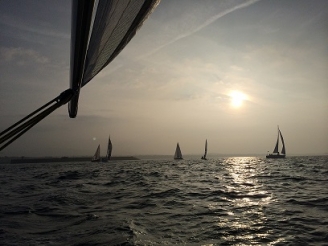 This year's race on Friday 12th September was a classic, with high pressure which gave steady winds of 5-7 knots from the east, a great turn out of 41 boats and a decent course which created opportunities for the fastest and the slowest boats.
 Competitors were encouraged to fly battle flags, wear funny hats or generally to entertain. John Sugars and crew in 31.7 Attitude took these instructions to heart, and arrived on the race course dressed all over with flags, banners and what seemed to be memorabilia of every regatta they had ever competed in.
The course selected by OOD Vincent Delany consisted of square, with a spinnaker run to Merrion mark, a spinnaker reach to Seapoint, a beat to Asgard and fetch to Pier mark and a run back to the finish line located off the harbour mark.
Early starters were the Glenariff with Adrian Lee and family, Glencoe  with Mary-Rose Craig, and Patrick Sheehan, Glenshane, with Pete Hogan, Glencree with John Bligh and Henry Roche, and Glendun with Brian Denham, Derek Freedman and Alison O'Brien. They had spinnakers up fast and were quickly heading west followed by Bruce Carswell in Sweet Martini. At three minute intervals groups of boats streamed over the start line.
The first bit of excitement was Una O'Dwyer's Escapade which came to the line too early, fully prepared with spinnaker up. How could she waste 15 seconds? She turned head to wind, so that the spinnaker was streaming over the stern and crossed over the start line stern first. Not to worry! Last boats away, 21 minutes after the leaders were the three club 1720s,Luna Sea under the control of Hugh Butler, Ronan Adams in Wolfe and Rory Mc Stay in Merlin.
Despite the strong tide the fleet were slow on the beat so a decision was made to shorten the course at the Pier mark to reduce the race length to one hour.
At the finish the order was Paul Conway in Cervantes a Contessa 32 who won the Shindilla Trophy, followed by Glenariff, Glencoe, special needs athlete Declan in Jill Fleming's Squib Perfection, Ian French's Teal, Des Cummins' J109, Denis Power's Bendemeer, Adrian and Avril Jermyn's Helter Skelter, Jason and John Crawford's Nautigal, Glencree.
The next 10 places went to Gerry O'Connor's Squib. BuzzLite, Katy Kirwan steering Boomerang, Frank Whelan's Squib Lola, Sheila Power's Squib Little Demon, Tim Pearson's Dragon Zu, Sweet Martini, the Nicholson Brothers' Red Rhum, .Peter Bowring's Dragon Phantom, Rowan Fogarty's Syzergy, and Glendun.
The tightest finish of the evening was between Vice Commodore's Birmayne and Gerry Harvey's Karukera followed by the only dinghy an RS400 Section 8 with Alan Claffy, Derek and Carol Mitchell's Ruff Nuff,  Derek Ryan's Antix, Alan Claffy's Diane II, Ian Bowring's Springer ,and  P.J. Timmins and K Byrnes 31.7 Fiddly Bits.
The final group of finishers were LunaSea, Merlin, Glenshane, and the second special needs athlete Thomas in the newly acquired Squib Karma, John Moyney's Jama,  Attitude, Tom Dunne's Katie, Wolfe, Michael Pomeroy's Conundrum, David Madden's Badger, Escapade, and finally Michael Suttle's comfortable Cruiser.
The race was followed by a great dinner in the dining room where Commodore Justin McKenna presented prizes to the worthy competitors.