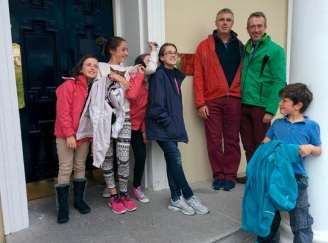 It wasn't in the nature of an official visit, but the Club had an eminent visitor last week.
Joan Sanfeliu (see note below), currently President of Club Maritim Altafulla and member of the board of the Catalan Sailing Federation was in town and came past with some of his family.
Joan has a solid relationship with Ireland, including when some Irish oppie sailors attending clinics in Catalunya stayed in his home.
The buildings and setup in Dun Laoghaire were very impressive and Joan went home with a new appreciation of Dublin Bay's place in the origins of yacht racing – and with a copy of Hal Sisk's book on the topic. The combination of friendly welcome and such wonderful buildings was particularly noted.
* Note, his name is pronounced similarly to the Spanish "Juan" but with a normal "J". It's not pronounced "Jone" like the Irish or British woman's name. It's a fairly common man's name in Catalunya.