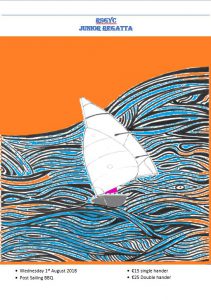 On Wednesday the club held its annual Junior & Youth regatta generously sponsored by Adrian Lee & Partners and supported by A Stitch In Time Embroidery Ltd.
On a damp Wednesday morning the competitors gathered for a briefing filled with weather warnings and safety procedures, and then the rain started. Torrential rain and gusts of 30+ knots were forecasted. While we couldn't avoid the rain the wind never really hit. There was the odd powerful gust but that's about it. The stage was set.
The regatta went off without out a hitch. Two courses, 80 odd boats and 95 people entered. The race committees on both courses managed to pull off 3 races and have everyone in in time for burgers and ice cream and just before the forecasted winds hit. A huge thank you to everyone who gave their time to help us out. The race committee, safety officers, and safety cover, everyone did an amazing job and we wouldn't have been able to pull it off without them.
Results Below:
Main Fleet Results
https://www.sailwave.com/results/RSGYC-JR2018-main.htm
Regatta Fleet Results
https://www.sailwave.com/results/RSGYC-JR2018-harbour.htm