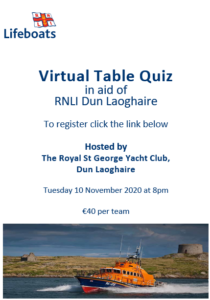 **** Registration closes at 6pm so don't miss your chance to enter ****
Join Quizmaster Sarah Mullen-Rackow and Host Mark Ridgway as they boggle your brains in aid of the RNLI.
Due to Covid-19 this year's quiz will be hosted online via Zoom.
With current guidelines in place we ask that teams from one household enter.
Click HERE to register your team.
If you have any questions please email Danielle at reception@rsgyc.ie