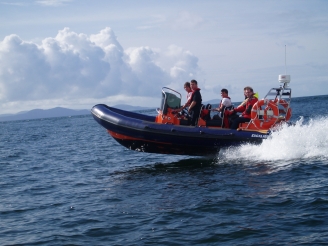 What is Powerboating?
Powerboats, speedboats and RIBs offer a fast, exciting and versatile way of getting into boating. Because of their speed and because they can easily towed behind a car they are great for trips and exploring both at home and on holiday. Powerboats provide a popular, relatively affordable and exciting way of getting afloat. They are perfects for families wanting to get afloat and explore, picnic, ski or dive.
Why do an Irish Sailing Training Course?
An Irish Sailing training course provides the ideal way to get afloat for the first time, or to build on skills you already have. All courses are run to a syllabus used all over Ireland and will be led by a trained and qualified Irish Sailing Instructor. Each course is carefully designed to provide you with all of the skills and confidence you need to get you out on the water and to get the most out of your boating.
Irish Sailing National Powerboat Certificate Levels 1 & 2
Course objective: to develop the skills and knowledge necessary to safely, and effectively, skipper an open powerboat, by day, on inland and coastal waters with which they are familiar.
Course Syllabus from Irish Sailing- Click here to download.
When is the next Irish Sailing Powerboat Training Course at the RSGYC?
Powerboat Training Course (Level 1/ 2) – Our next course will be as follows:
October 16th & 17th 0830 – 1700 each day. Click here to register
Regular courses throughout the year.
Is wet weather gear provided or available?
Yes, the RSGYC provide full wet weather and safety gear. All you need to do is turn up with wellingtons/ suitable foot wear that can get wet.
Will I be able to safely use the Club Ribs upon successful completion of the Irish Sailing National Powerboat Course Levels 1 & 2?
Yes. Upon successful completion of your course you will be issued with the Irish Sailing National Powerboat Certificate 1 & 2 that will allow you to safely use the RSGYC Club powerboats.
Questions?
Please contact us and we will be happy to assist.