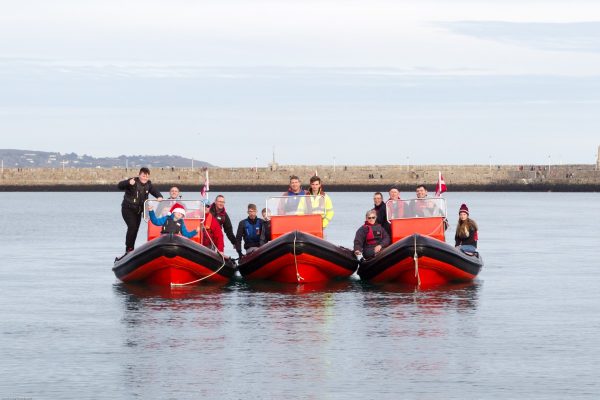 RSGYC ribs in Dun Laoghaire
Introduction
The following information should answer most of your pre-course enquires, but if you require any further advice, please contact us on Sailing@rsgyc.ie or at Tel: 01 2801811.
Course Duration
Two Full days. Candidates must participate continuously on both days to be eligible for assessment on the last day.
What is covered in the course
This course is designed to provide candidates with the basic skills and techniques required for handling a powerboat in coastal waters by day and within sight of land. The course is conducted in accordance with the standards laid down by Irish sailing (IS) and the Royal Yachting Association (RYA). Successful candidates will be awarded the IS National Powerboat Certificate (Level 2).
In order to qualify to undertake the National Powerboat Certificate, to the syllabus as set by Irish Sailing, a participant must first obtain the Introduction to Powerboating Certificate or otherwise be capable of demonstrating equivalent boating experience. Equivalent experience is understood to mean that the participant is able to demonstrate the core capabilities as outlined in the description above.
I am unsure if my experience is sufficient, what should i do?
Please complete the form at this link and we will be in touch to discuss.
What is the minimum age to take the course?
Participants must be 18 years of age or above to take the course. We offer courses for Youths (16- 18 yrs of age). Please contact us to find out more about these course dates.
Afloat or ashore?
The course will involve both shore based instruction, and instruction afloat. By far the most time will be spent afloat and this allows the candidate to gain as much hands on experience and practice as possible. Therefore it is important that the candidates are properly equipped.
Course Fee?
€295 for the full course.
What to bring?
The minimum requirements each candidate should bring for going afloat are:
• Lifejacket / Buoyancy Aid, of suitable size*
• Dry suit / Offshore Suit / Waterproof & Warm Clothing*
• Warm undergarments (fibre pile recommended)
• Headgear and Gloves
• Sea Boots/Boots/Shoes (not black soles and NOT trainers)
*Can be provide by RSGYC if you do not have your own.
Timings
The course will start at 08.45 am sharp on both Saturday & Sunday mornings in the Royal St George Yacht Club. Initially there will be a briefing, which will explain the format of the course, and what activities are planned. Lunches will be available daily in the Club Bar and we invite you to avail of the lovely menu's on offer.
Candidates may wish to bring a thermos flask for hot drinks during the day.
Saturday:
8:45 am: Muster and introductions
9:00 am until 10:30 am Classroom based content
10:45 am On the water
13:00 pm Lunch break
14:00 pm Classroom briefing before going on the water for the afternoon
Finish by 17:00pm
Sunday:
09:00 am: (Sharp) Muster
9:00 am until 09:30 am Classroom based content
09:45 am On the water
13:00 pm Lunch break
14:00 pm Classroom briefing before going on the water for the afternoon
Finish by 16:45 pm
Please ensure that you are fully prepared for all weather conditions as outlined
What will I learn?
The syllabus covered will cover all points laid down under the IS and RYA Powerboat training schemes. In summary, this will include the following:
– Proper launching and recovery
– Boat handling under way
– Securing to a buoy
– Coming alongside
– Anchoring
– Man Overboard
– Towing
– Types of craft
– Safety
– Introduction to Engines
– Basic Pilotage and navigation
– Tides and Tidal Streams
Suggested reading:
Code of Practice: The Safe Operation of Recreational Craft from the Department of Transport, Tourism and Sport- Click here to download.
(Complimentary Copies available from the RSGYC upon request- click here to arrange collection).
I want to book- what do i do?
Easy!
When is the next Irish Sailing Powerboat Training Course at the RSGYC?
Dates and booking links for 2022 courses can be found HERE