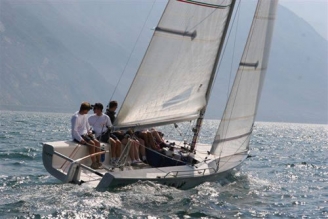 Originally marketed as the 'Cork 1720' in recognition of the Royal Cork Yacht Club, the oldest Yacht Club in the world, the 1720 Sportsboat is a pedigree racing keelboat, providing safe, affordable and exhilarating one design fleet racing.
In 2003, the 1720 'Club' version was launched. The Club features a roller furling headsail and a smaller spinnaker than on the classic 1720, and is therefore, a more manageable version of the 1720, superbly suited to club racing or for those wishing to race with smaller crew numbers.
The 1720 Class has grown and matured over the years and there are now boats racing in the UK, Ireland, Europe, and the USA. The Class is renowned for its friendly camaraderie, packed regatta schedules, close and exhilarating racing and hectic socials! This is as true now as it was when the 1720 was first launched, back in the mid 1990s.
Taken from http://www.1720sportsboat.org/