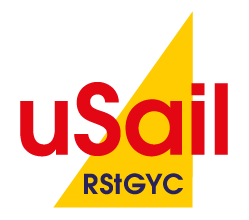 uSail – Adult Sailing Course
"Let's get you on the water!"
It's right for You!
Have you ever wondered what it's like to go sailing in Dublin Bay? Think about healthy outdoor exercise, which can at times be exhilarating and also very relaxing. Add the attractions of a friendly buzz around the Apres-Sail BBQ ashore. It's the perfect antidote to a busy week at the office. With our uSail adult training programme, we tailor our courses to aspiring sailors with different levels of experience from complete beginners to experienced sailors. Training is on our Club 1720 Sports boats. These boats are safe and fun to sail which make them ideal boats to learn on. There is plenty of room for 4-5 sailors and a coach. The boats are stable and fast, so you can be guaranteed an enjoyable, exciting and safe time learning to sail. Positions are rotated so you get to know all jobs on the boat and our coaches will be sure to make the training relevant to your level of ability as to make the most of your time on the water.
At the end of the course, we expect you to be competent enough to crew on a keelboat. You will be added to a private "uSail Alumni" Whatsapp group where we message you regularly about spaces to crew on members boats.
Why not experience sailing at the Royal St George?
We have put together a number of programmes to introduce you to sailing and to the club.
uSail Start Sailing (€340)
uSail Racing (€270)
uSail Try Sailing (€30 p/ person, credit of €30 will be issued for uSail Start Sailing)
uSail Seamanship & Boathandling
1. uSail Start Sailing
No experience necessary. uSail training courses are for adults of all ages
Courses will be run throughout the season enabling you to feel the 'buzz' of both sailing and the club itself
Each course will be short, intensive and sociable
This course consists of five training sessions over 2-3 weeks
Sessions are usually held on week-nights after work (Tuesdays, Thursdays 6 – 9 pm)
We introduce you to members who are keen to share their love of sailing.
The RStGYC is an Irish Sailing approved Training Centre
Quality instruction & tuition, with individual feedback
An instructor and up to four uSailors per boat.
Most training is on 1720 keelboats (which don't capsize).
Also available are Squibs, Cruisers, and Power-boats
Cost includes apres-sailing meal/bbq after each session
Courses have concluded for 2019 and will be starting again in mid- April. Click here to be contacted with our 2020 schedule when it is posted.
2. uSail Racing
Take your sailing to the next level
For those who have already completed the uSail Start Sailing course
Experience the excitement and thrills of Dublin Bay Sailing Club races
Take part in four DBSC races: Thursday series, or Saturday series
This course has concluded for the summer season.
Next Racing course will be the 'Spring Chicken Series' running on Sunday mornings in February and March from 0900 – 1200 for 6 races. A great way to blow off the cobwebs on a Sunday morning. Compete as part of a fleet of up to 80 boats.
To register your interest in the Turkey Shoot series please click here:
Dublin Bay Sailing Club Series Racing
This series includes all boats in Dun Laoghaire and can have over 100 boats competing at times! Book yourself in for a month of this DBSC Summer Series racing. There's dates for Thursday evenings or Saturday Lunchtime races.
3. uSail Seamanship
Step up your sailing experience to larger keelboats and learn the transferable skills that you can use on larger boats. Sailing skills are one part, Seamanship is a whole other and one that takes time, patience and plenty of practice.
Our 16 hour uSail Semanship Course will provide plenty of training and experience on the following:
Inboard Engine Operation
Leaving/picking up a mooring under power and sail
Coming alongside under power and sail
Berthing under power
Anchoring
Man Overboard
Sail Trim
Weather
Heavy Weather Sailing & Setup
…. And more.
This course has concluded for the summer season.
Still not sure?
4. uSail Try Sailing

A single session for total novices lasting 2 to 3 hours
Enjoy a real hands-on sailing experience on a club yacht
You'll be in safe hands with one of our talented skippers
Corporate packages
We have a great Corporate package available for larger groups. Please enquire with Karin in the Sailing Office at sailing@rsgyc.ie
For further details follow the links:
Course Dates and FAQ's
2020 courses will start at the end of April. The full schedule will be posted here soon.
Join our Facebook page and check out what else is going on in the club!
For More Info just email Karin Ryan at sailing@rsgyc.ie Or call 01-280 1811
We will be delighted to assist you with the start of your Lifetime of Sailing Adventure.