For members & friends on Tuesdays, Thursdays and Saturdays 2023
Crew Class at the George will get you into shape and get a full workout at the same time.
Rowing is recognised as one of the most effective forms of full-body exercise; working 85% of muscles with every stroke.
We have teamed up with ex Olympian Niall O'Toole from Crew Class to offer members and friends a unique fitness class experience delivered through outdoor and online rowing.
The Crew Class outdoor and online program is a fantastic unparalleled exercise to get stronger, leaner, and work your core and Learn to Row in a fun team environment!
Benefits include:
Burn over 800 calories per workout!
Increased strength throughout your body.
Elevate your heart rate; lift your VO2 max.
Get leaner and lose weight.
Increase your mental clarity & focus.
Be motivated as you scale and progress.
Measure your progress with the monitor.
Classes are on Tuesdays and Thursdays @ 6am, 7am and 6.45pm and Saturdays @ 9.30am and 10.15am
Full Body - Low Risk - Team Environment - All Levels - Personal Attention - Mind/Body Set!
For more details please click here:
To book online please click here: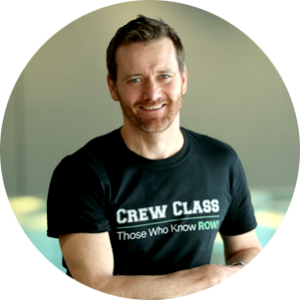 Niall O'Toole
Niall was Ireland's first World Rowing Champion, he is also a multi world medalist and former world record holder. Niall represented Ireland at the 1992, 1996 and 2004 Olympic Games. He also competed at 15 World Rowing Championships. Contact Niall.