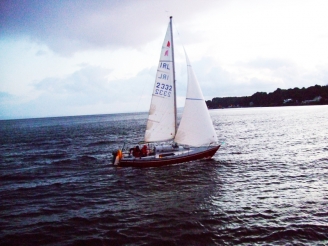 The Ruffian 23 is a 23 foot keelboat which was designed and built by brothers Dickie and Billy Brown of Portaferry, Co. Down, 35 years ago.
The Ruffian 23 is a great one design racing boat, an extremely family-friendly boat, and despite its size, the Ruffian 23 has cruised waters around Ireland, the UK, and further afield. Approximately 200 Ruffians were built and many are still raced regularly in Dun Laoghaire, Wicklow, Skerries, Baltimore, Carrickfergus, Strangford Lough, around the Clyde, the Isle of Man, and even as far afield as Hong Kong and Uruguay.
An annual feature of the Irish Ruffian calendar is the North v. South Team Racing event which is held alternately in Carrickfergus and in Dun Laoghaire.
The Dun Laoghaire Ruffians also hold an annual inter-club team racing event with the most recent event being contested by the National Yacht Club, the Royal St. George Yacht Club, the Dun Laoghaire Motor Yacht Club, and Wicklow Sailing Club. It was held on June 29th and the holders, the National Yacht Club, retained the title.
Regional events take place each year – the Northern Championships hosted by Carrickfergus Sailing Club, the South East Coast Regatta hosted by Wicklow Sailing Club, and the South Coast Championships hosted by Baltimore Sailing Club.
A good fleet of Ruffians competes in the annual Lambay race, and a Ruffian, Shannagh, was the proud winner of the Lambay Lady trophy in 2004.
Information taken from http://www.ruffians.ie/
Class Captain: Chris Helme