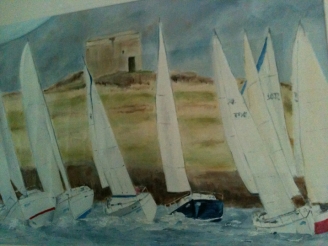 For a class that started out with the intention of getting a handful of cruising boats off their moorings and out to race on a Thursday night, the White Sail cruiser class has grown enormously over the last eight years. In the 2010 season there were 38 boats registered and, therefore, this class is now one of the biggest fleets in the bay.
The traditional concept was a 'gentlemen's' class, with no great focus on results and definitely no protests! This has not been completely lost, although the class has become somewhat more competitive as people strive to improve their sailing skills. At the same time the growing numbers of boats racing and the need to ensure safety, in particular, have resulted in the occasional protest.
The success in DBSC reflects the growth seen internationally - though the precise definition of White Sail is still proving a challenge. In some locations, the name simply means no spinnaker can be flown, but in DBSC we are somewhat more focused and define the objective of the DBSC White Sail class as to provide safe, fair racing for cruising boats.
Our class rules have developed as appropriate to this ethos. In fact, about eighty percent of the yachts are traditional family cruisers, Sun Odysseys, Beneteaus and Bavarias and so on, with crews keen to add racing to their cruising routine. The remaining twenty percent are cruiser racers who have migrated from the pure racing classes for a variety of reasons, such as crew shortages or just to have a slightly less competitive sport. Lest it be thought that this is one-way traffic, some boats do go in the other direction, looking for a bit more excitement in the racing fleets.
The class races as part of the regular DBSC Thursday and Saturday series and we share fully in the race schedule, line duties – and socializing. This differs from some other locations where White Sail racing may consist of regular racing boats going out on a different night with family and friends for social racing.
Certainly we feel that our approach is highly successful, and has brought in dozens of boats and hundreds of sailors new to the sport. A further advantage of boats racing in this dedicated White Sail class is that we can define rules which are appropriate to ensure safe and fair racing for cruiser type boats. For example, boats must use cruiser-type rigs with furling or self-tacking headsails and cannot use hi-tech sail materials. This is an evolving area, and in the last few years we have acknowledged polling out and the use of laminate sail material as now falling within the definition of a standard cruiser rig.
For regattas and inter-club events, the rules discussion continues. This year we experimented with having two sub-classes, one with the DBSC White Sail cruiser rules and the other an Open class, specifying no spinnaker, but allowing racing foresails and hi-tech sail material, mainly to facilitate visiting boats.
This approach was first used in the National Yacht Club regatta, and was particularly successful in the Royal St George YC regatta where there were 18 'White Sail – Cruiser' entrants and seven in the 'White Sail – Open' category, resulting in great racing for both sub-classes. As the fleet continues to grow, this may well be the template for the future development of the class.
Painting: White Sail regatta racing, painted by Barbara Roy
Class Captain: Sean O'Regan