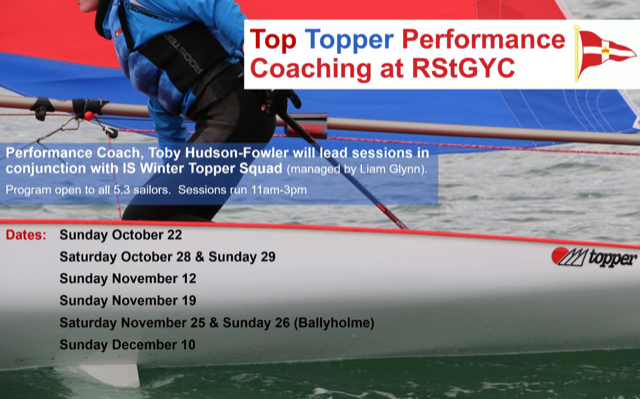 Our Vice-Commodore, Paul Molloy, and I have many things in common. Apart from the obvious that we were both really bad at dodging requests for us to volunteer, we both have a desire to see the development of a Topper fleet in the Club. Let me explain why.

Most of our kids start sailing in Optimists which is a great little training boat but that is one of the problems, they're little. Kids in general leave the Optimist class one of three ways. They Age-Out, they Fun-Out, or they Grow-Out. Increasingly our kids are getting bigger and bigger and all too many are growing too big for the Oppies at a young age.

That was the problem Lorraine and I faced with our son Daniel when he was 12 turning 13. He had gotten too big for the Oppie, and we were considering a Laser/ILCA 4 at the time. At that point we got some great advice from Robbie Walker who told us that Daniel was too young for the Laser, he had 2 boys in the class, so he knew.

So, we got Daniel a brand-new Topper from Viking Marine for about €4,500. It was the making of him. He did a full year on the Topper circuit and had an eye on the Topper Worlds which were due to be hosted in Cork in 2021 before we hosted the ILCA 4 Worlds later that summer.

In the end, though Covid intervened and the only training available to Daniel in the Club in 2020 was either to go back into the Oppie, not an option or go into the Laser early. Under the watchful eye, mentoring, and coaching from Toby Hudson Fowler, Daniel went on to win the Munster championships in 2022 and finish in the top 3 of every other ranking event.

The George is going to run Topper training this winter in parallel with Irish Sailings programme which means there will be an opportunity for the kids to sail with the winter academy. We have a couple of boats that might be available to borrow, and brand-new boats are still reasonably priced at €4,900 in Viking.

We are delighted that Toby Hudson Fowler has agreed to oversee this training, I cannot speak highly enough of him as a coach. If you have a child who sounds like they might fit the bill here's the link.
– Richard O'Connor