Movie Night "Sideways"
September 18, 2019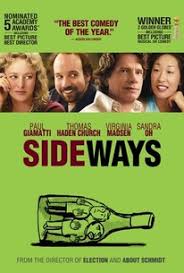 Dennis Woods & The Royal St. George is proud to present "Sideways" for our monthly movie night on the 18th of September.
"Sideways tells the story of struggling writer and wine enthusiast Miles, who takes his engaged friend, Jack, on a trip to wine country for a last single-guys bonding experience. But things don't go according to plan and comedy ensues."
This movie will appeal to wine lovers everywhere.
Dinner starts at 19:00 at €15pp
The movie commences at 20:00
Booking is essential so please contact Danielle or Laura in reception to secure your place or call 01 280 1811.