RSGYC Feva Summer Training Clinics 2016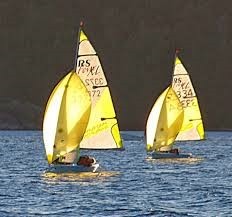 RSGYC Feva Summer Training Clinics 2016
Clinic 1 – Monday, June 20th – Friday, June 24th
Clinic 2 – Monday, July 11th – Friday, July 15th
Clinic 3 – Monday, August 8th –  Friday, August 12th
The RS Feva Ireland Association is holding 3 Summer training clinics in the Royal St. George Yacht Club, These clinics will be headed up by the Feva Class Coach, Stephen Craig, with the assistance of a number of other current RS200 and recent Feva sailors. It is open to sailors from all clubs, and of all abilities. We will have separate on and off the water coaching sessions for more experienced Feva sailors who want to improve their boat handling and tactical skills and for those who are new or newer to the class and want to learn how to sail Fevas. These clinics are open to sailors from all clubs – all are welcome. If you are interested in doing any of these Feva Clinics, but don't have a boat or someone to sail with let us know and we will see if that can be arranged.
Clinic 1 – Boat Handling. This clinic will focus on improving boat handling and there will be a real focus on spinnaker work.
Clinic 2 – Pre-Nationals Racing Clinic. This clinic is taking place the week before the RS Feva Irish Nationals, which are taking place in Greystones Sailing Club from Monday, July 18th – Wednesday, July 20th. The focus of this clinic will be on prepared for racing, and will incorporate the RSGYC Junior Regatta, which takes place on July 13th. The fee for the clinic includes entry to the regatta.
Clinic 3 – Feva Adventure. The focus of this clinic will be "having fun in a Feva"!
The sessions will run from 9:00am – 5.00pm each day, and lunch will be provided by the club.
The cost for each clinic is €175 per sailor.