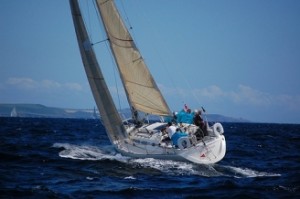 The Sigma 38 is one of the few yachts (perhaps the only yacht at under 80 grand) that manages to combine the excitement of one design racing with comfortable cruising.
In 1985, the Royal Ocean Racing Club and the Royal Thames Yacht Club agreed to sponsor a new One Design and commissioned top yacht designers, including Rob Humphries, Stephen Jones and David Thomas. The designers put forward proposals to some of the top yachtsmen of the day and the decision was made to adopt the design of David Thomas who had already designed the successful Sigma 33. Built by Marine projects in Plymouth with a sail wardrobe from North Sails the Sigma 38 became extremely popular, costing around 60,000 pounds plus the dreaded VAT.
Marine Projects built a total of 124 yachts. Northshore Yachts at Itchenor built the last Sigma 38 in 1993. Large fleets were established in Scotland, Ireland, on the East Coast and particularly on the South Coast. The Class Association was established in 1988.
Many changes, including introducing new sail makers, have been introduced to the rules to maintain the competitive nature of the fleet.
Information taken from http://www.sigma38.co.uk/