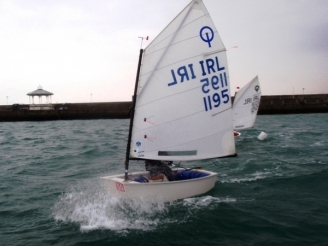 30 January 2020
A note from the Optimist Class Captain- Brendan Foley
The Royal St George is a family orientated club that espouses the values of fun, friendship and sailing excellence.  The Optimist Class is the heart of Junior Sailing at the club and is the biggest dinghy fleet.  Multiple National Champions have come through our ranks and have gone on to represent Ireland all over the world.  Lots too have simply had great fun, learning and made life-long friends in this class.  Many of our coaches have come through this system and create a continuous line of 'Team George' sailors.
We cater for three levels of sailor :
Beginners – They learn the basics of wind awareness and boat handling
Intermediate – They learn the basics of racing and will aim to compete at IODAI* events in Regatta Fleet
Advanced – They learn the strategic, tactical and boatspeed skills needed to race at IODAI Main Fleet level
The oppie sailors fo by the nickname of GODS (not all ego!!! George Optimist Development Squad) – a term the kids themselves came up with.
Driven by class Captains Sarah and Brendan Foley, year-long programmes of training are available which include:
Sunday training
Weekend and Summer Racing clinics with top international coaches
Pre IODAI event clinics
Event coaching at IODAI events with club coaches
From time to time groups of sailors and parents self organise for overseas regattas and many join an interclub training group called the DOGS (Dun Laoghaire Optimist Group Squad) for winter training.  This is for advanced sailors and they need to have 2 Regionals and a Nationals completed and have qualified for trials.  This programme also primarily runs out of the Royal St George.
We have fantastic facilities at the club for boat storage and the club also has Optimists that can be chartered.
Whether you are a top sailor or just starting out – you will find a welcoming fleet and lots of helpful advice waiting for you.
*IODAI International Optimist Dinghy Association Ireland