The George is running a basic introduction to the ILCA "laser" dinghy sailing course, with the aim being that you progress into the Adult Laser kindergarten, which is the hottest group in Dún Laoghaire currently. No boats required as we have a limited number available from the Club to use.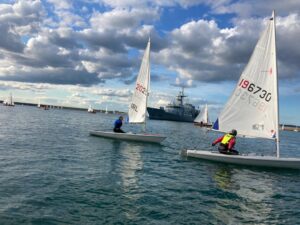 We will be running sessions where we will cover everything from;
Rigging
Launching & Recovering
Sailing in range
Develop boat handling skills
Gain wind awareness
Develop confidence within the Laser
After six weeks, the aim is to gain experience in the Laser while giving you the tools needed to further your sailing within the Laser Kindergarten group who are renowned for the craic afloat and ashore.
When: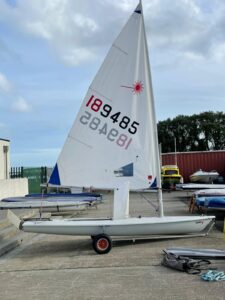 2022 Dates to be confirmed.
Courses will take place: September 2nd, 7th, 9th, 14th, 16th & 21st
Wednesday evenings 6-9 pm
Friday evenings 6-9 pm
Book your place HERE
There will be limited spots on both days (you may sign up for either or both!) so it will be first come first served. The plan is to start with Laser 4.7 rigs, maximum of 4 boats and 6 sailors so that sailors can switch between boats and the support rib. Sailors can drop in and out of sessions subject to availabilty.
Gear Required:
A wetsuit or similar gear that will keep you warm while afloat and/ or in the water (great fun!), and a buoyancy aid. Runners or similar type footwear that you can get wet are also required.
Cost: €60 p/ session which includes use of Club Laser.
Questions? Please contact us at sailing@rsgyc.ie
Come on and join the fun!