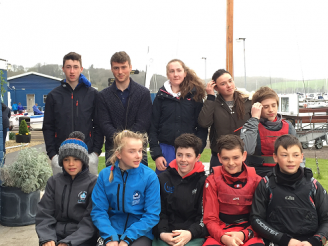 The picture on this page shows some of our sailors (Back Row) Henry Higgins, Patrick Cahill, Niamh Henry, Kate Lyttle, Leon Montgomery (Front Row) Charlie Cullen, Grace O'Beirne, Tom Higgins, Jack Fahy, Morgan Lyttle
The RSGYC had a hugely successful showing at the ISA Youth National Championships 9th to 12th April in RCYC with a large team of George sailors representing the club in 420s, Laser radial and 4.7 classes and Optimist fleets.
There were four days of intense competition with conditions varying from light and shifty to squalls of 25 knots and as always in Cork Harbour, challenging tides. For George sailors however this just allowed them to put all the hard training hours done over the winter into practice and boy, did it pay off. Many congratulations to all the club's sailors who took part.
Congratulations to all Dun Laoghaire Winners!
• Conor O'Beirne winner, Irish Youth Laser Radial National Championship
• Henry Higgins winner, Irish Youth Laser 4.7 Championship.
• Kate Lyttle and Niamh Henry winners Irish Youth 420 Girls Championship.
• Grace O'Beirne, Tom Higgins, Charlie Cullen, Hugo Kennedy who have all been selected to represent Ireland at the Optimist European Championships.
• Morgan Lyttle and Jack Fahy who will represent Ireland on the Optimist International Development Team in France this summer.
• Alana Coakley and Kate Fahy will be part of the Optimist under 12 squad attending the UK Nationals in Wales this summer.
EVENT REPORT AND PHOTOS FROM OUR FRIENDS AT AFLOAT.IE