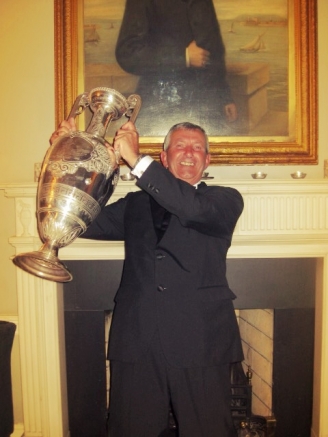 The Royal St. George hosted its principal annual event, the George's Day Dinner & Awards on Saturday, 25th April 2015. As part of the evening's proceedings, Commodore Justin McKenna awarded the Jameson Trophy, the Club's premier trophy which is presented for outstanding contribution; this year's recipient was Member Robin Sykes. It was a night to remember and a fitting celebration of the great accomplishments of our Members.
Our Vice-Commodore, Michael Pomeroy, George's Day Speech from the evening is available for your perusal.
The award categories were as follows:
Commodore's Cup (Best Offshore Performance)
Winner – Maurice "Prof" O'Connell
Vice-Commodore's Cup (Significant Dinghy Performance)
Winner – Conor Kinsella & Barry McCartin
Enriquetta Cup (Significant Keelboat Performance)
Winner – Chris Helme & Diane II
Causeway Trophy (For Sportsmanship)
Winner – Dariusz Szuba & Hazel Rea
Youth Trophy (Significant Contribution to the Club by a Youth Sailor)
Winner – Stephen Craig & Conor Foley
The Jameson Trophy was awarded to Robin Sykes.
Congratulations to all!
Pictures from the night are available in the following George's Day Gallery.