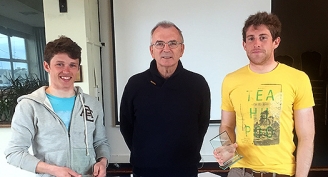 Photograph: Barry McCartin (left) with Skerries SC commodore Kieran Branagan (centre) and Conor Kinsella were overall Fireball winners in Skerries. Photo: Frank Miller.
Fireball dinghy champions Barry MacCartin and Conor Kinsella won the Fireball Open Event at Skerries Sailing Club in a lively two day event.
Their narrow victory was won on countback against Noel Butler & Stephen Oram after six races in a competitive 12–boat fleet. The Irish National Sailing Club's Kenneth Rumball was third. Results downloadable below.
When twelve Fireballs rolled up at Skerries sailing club on Saturday it was a tad breezy, in fact the kind of day when you couldn't put anything down for a second as it would instantly be blown away. Many visitors had forgotten that the club faces almost due west into the eye of the prevailing wind. At 10am Saturday the live WindGuru Skerries hotspot was showing spikes of 34 knots. With the first gun scheduled at a leisurely 12.30pm and no worries about getting quickly to the race area many left their masts down, stuffed anything loose into hedges and behind a high wall and headed indoors for coffee and homemade scones and marmalade courtesy of the Commodore Kieran Branagan's wife Mary. The commodore went further above and beyond the call of duty as he headed out in a RIB when one RIB crew cried off at short notice – and then got a soaking for his trouble slipping between RIB and committee boat. As sailors looked out to sea and wondered what the excess was for broken masts on their insurance policy the wind abated a notch. The race committee took to the water and after a while word came back to launch, conditions were deemed sailable.
So it was that about eight boats ventured out and three very decent windward-leeward races were had in lively conditions with wind averages in the early twenties and the very odd gust spiking thirty knots. The three races each had different winners from amongst the usual suspects with Noel Butler/Stephen Oram, Barry MacCartin/Conor Kinsella and Kenny Rumball/Tedz each taking a bullet. Unfortunately the race committee took a couple of scalps in the first race as an unusual addition to Fireball SI's included an instruction not to sail downwind through the finish line. While the conditions were very windy they were manageable with plenty of rake and cunningham and for those with struts a bit of extra mast bend lower down – it is to the great credit of the Winder Fireball build quality and design that there was no gear failure despite the conditions. Generally it paid to head in left out of the tide but there were fairly big shifts in the mini squalls and the ideal was probably to head in at the least sign of a header on port. In the conditions several people headed out to sea just happy to be going fast and upright. As the afternoon wore on and the wind dropped a notch further some of the lighter teams headed out into the fray including Neil Colin/Margaret Casey and Louise McKenna/Hermine O'Keeffe. Heavyweights Frank Miller/Ed Butler had two good races scoring a 3rd and a 4th but were DSQ in race one for sailing through the finish line.
Day two had an earlier start and less wind than day before but still very gusty & shifty between 10-18 knots.
Racing got underway about 11am this time using the Triangular courses. Race 1 had a heavy pin-end bias so most boats opted for that end with Mick Creighton 14698 getting the best start as most boat headed out to the left. From this group McCartin/Kinsella got to mark first with Butler/Oram and Rumball/Byrne a bit behind setting off on reaching legs. The leaders extended on the fleet in the 18knot conditions on next beat but on the 3rd lap Butler/Oram closed up from 40 boat lengths to 10 boatlengths playing the shifts better however McCartin/Kinsella held on for the win with Rumball/Byrne in 4rd and Clancy brothers a distant fourth and Jon Evans/Aidan Caulfield in 5th.
The next race followed with slight easing in conditions and another pin end bias opting to get onto port as early as possible with McCartin/Kinsella and Rumball/Byrne getting away followed by Butler/Oram at top mark. The top reach proved tight with leaders requiring an Aussie-drop to make mark with 3rd overtaking 2nd place into the leeward mark. the top 3 were only separated by 10 seconds for the entire next beat keeping the same order down the run and on 3rd lap 3 boats had less than that between them as each boat worked tirelessly to gain over the other as places changed on the upwind. McCartin/Kinsella though squeaked in just ahead at the windward as all boats set down the reaches for a finish in gusty high speed planing conditions. Positions held in that order to the close finish with Clancy brothers in 4th and again Jon Evans rounding out top 5.
Heading into the last race, the title was still not secure due to the closeness of points between top 3 and a race win by Butler/Oram would have given them the title from McCartin/Kinsella. Knowing this the top 2 locked hornsa bit before the start even including a collision and some damage to McCartin/Kinsella's boat near the committee end. Penalty turns were completed by Butler/Oram who made the start albeit at the unfavoured end of line, and then were forced right by McCartin/Kinsella. That duo covered forcing them into a big header as rest of fleet went left to favoured side so that by time next shift came the two leaders were all but dead & buried, playing into McCartin/Kinsella's hands. This time at the front Rumball/Byrne comfortably lead followed By Clancy brothers, McGrotty/Cramer, McKenna/O'Keefe and Colin/Casey. McCartin/Kinsella got back to 3rd at bottom of triangle but playing the middle of course next beat along with Clancys fell way back again to rest of fleet and Butler/Oram who had gone hard left coming back with a 30deg shift back near the top. On next leg Rumball/Byrne continued to have a healthy lead going into last lap with Butler/Oram now in 2nd needing 1 more place for overall win Rumball/Byrne held on to their lead to finish with Colin/Casey coming 3rd, McCartin/Kinsella 4th (and owing some thanks to Rumball) and Clancys in 5th place.
Overall winners on countback with three firsts were McCartin/Kinsella over Butler/Oram in 2nd and Rumball/Byrne just 1 point further back. The Clancys were fourth with Colin/Casey in 5th. Another extremely close regatta especially among the top 3 as the build up to the Worlds in Wales August 2015 continues. Next Fireball event is the Ulsters in the stunning location of Redbay in Glens of Antrim Cushendall and the fleet is hoping for a good turnout there.
Thank you to our friends at Afloat.ie for the above report.