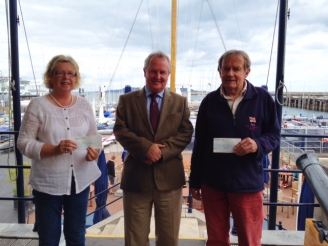 Pictured is the Commodore Justin McKenna presenting Bridget Aylmer on behalf of the Dining Room and Robert Fowler on behalf of the RNLI with the cheques at the Club.
A fantastic €1,500 was raised by the ladies' attending the Brown Cow Best Dressed Ladies' Lunch on the 11 July.
The Dining Room is a wonderful local charity, it is an inter-church venture, aimed at serving the homeless, addressing food poverty, loneliness and isolation in the area. It is open three lunchtimes a week and offers hot and nutritious food at no cost. It opened its doors in February 2014 and has the full backing of local churches and local authorities. Food and friendship is offered weekly by voluntary teams, on Mondays, Tuesdays and Thursdays, in the Hall of Christ Church, Park Road, Dun Laoghaire, by the People's Park.
Through lifeboats, lifeguards and safety advice, the RNLI are committed to ending preventable loss of life at sea and provide an on call 24-hour lifeboat search and rescue service around Ireland.
The generosity of the local community in donating raffle prizes was overwhelming. Many thanks to everyone who donated prizes for the day:
Audrey Taylor
Aidan Fitzgerald Salon Blackrock