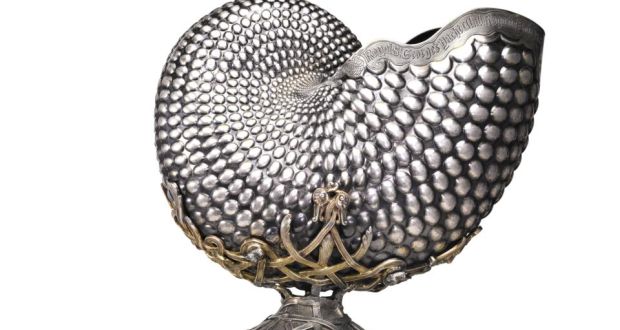 A stunning silver trophy presented after a regatta in Dún Laoghaire harbour 163 years ago has turned up in a New York auction and is expected to sell for up to $30,000 (€26,300).
Sotheby's says its silver sale in Manhattan on Friday, April 15th, includes a large Celtic revival-style Irish silver yacht trophy made in 1853 in Dublin and presented to the winner of a yacht race held that year at the Royal St George's Yacht Club's regatta in what was then Kingstown and is now Dún Laoghaire. The town may have changed its name but the yacht club, on Harbour Road, founded in 1838, still retains its royal prefix. It has since changed its name to the Royal St George Yacht Club.
The inscription engraved on the trophy reads "Royal St George's Yacht Club Regatta July 1853 / Won by the Volante J L Craigie".
According to Sotheby's Volante was a cutter of 48 tons, built by Thomas Harvey in Ipswich in 1851 that competed in the Royal Yacht Squadron Race around the Isle of Wight in 1851 – subsequently known as the America's Cup. For the benefit of marine historians, the catalogue notes that "a watercolour of the Volante is in the collection of the National Library of Australia".
According to Sotheby's, the silver trophy, in the shape of a nautilus seashell, is stamped with a maker's mark – "Rs" – which probably refers to 19th-century Dublin silversmith Richard Sherwin.
The auctioneer notes that "this is an early example of Celtic revival design" and the base of the trophy is "mounted with eight posts modelled as multiple human and wolf masks rising from Celtic interlace and ropework, all surrounding an octofoil pedestal engraved with Celtic initials of the yacht club".
The trophy has been consigned to auction by an anonymous owner who wishes to remain private.
The trophy contains 141oz of silver and stands about 46cm high. The estimate is $20,000-$30,000 (€17,600-€26,300).
Article and Image courtesy of the Irish Times