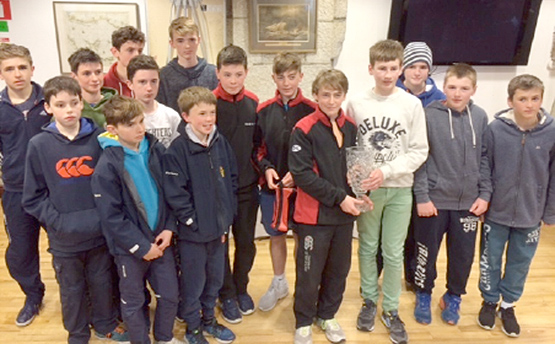 RS Feva Winners Henry Start and Morgan Devine with their competitors 
In order to encourage the newer members of the RS Feva class this year, the Eastern's were sailed on a separate course inside Dun Laoghaire harbour.
The 11 boat fleet, under the capable race officer Michael Tyrrell and his team, had 8 races over the two days.
Local RSGYC sailors Henry Start and Morgan Devine were to master the conditions and win the event. They were challenged all the way by newcomers to the class, Tim Norwood and Finn Cleary from RIYC. The pair had stolen a march, winning three of the four races in light winds on Saturday.
Third place went to Marcus O'Leary and Jeff McGovern who just edged out the all-girl crew of Emily Arrowsmith and Caira Little. Malahide brothers Liam and Aidan Donnelly carded three third places on Sunday, showing their potential going forward.
Thanks go to our coaches at the weekend Pheobe Norwood and Meg Tyrrell, who provided plenty of encouragement all weekend. Congratulations to all who competed in the RS Feva Easterns.
RS 200 Report
11 RS200s turned out for the first event of the year, the fleet was more of a "mature" crowd, with lots of couple's combos. This is an area of huge growth in the fleet, and should marry well with the younger contingent who often miss this event due to study commitments.
One of the new faces in the RS200 was multiple fleet dinghy and keelboat champion Neil Spain, who is sailing with his wife Maeve. Another top sailor out there was Women's match racing star Mary O'Loughlin, joined by past Irish Olympic flag bearer Ciara Peelo as crew. Unsurprisingly they proved to be very competitive. We were also really pleased to have teams up from Caullan Sailing club, which has a very strong local fleet or RS200s.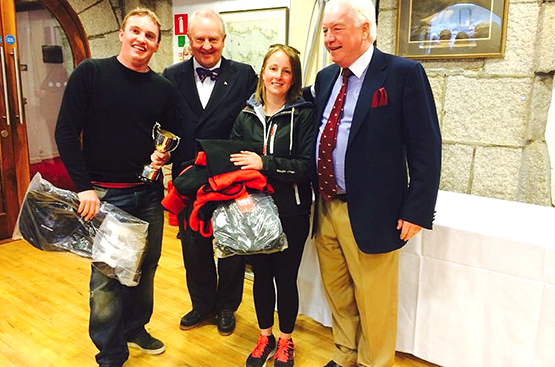 RS200 Winners Marty O'Leary and Rachel Williamson with Commodore Justin McKenna and Vice-Commodore Michael Pomeroy
On Saturday, the fleet enjoyed 3 sharp 48 minutes races on the W/L course. Marty O' Leary and Rachael Williamson showed their considerable pedigree. Marty was not distracted by being heavily involved in the organisation of the weekend for all classes. The pair put their stall out early and led overnight, to give themselves every chance of defending the title of which they were the holders.
It was very close from 2nd to 5th, with a point separating each team after day 1. Our former RS Fleet chairman Frank O'Rourke (GSC), sailing with college team racer Lisa Smith were the top challengers overnight.
So onto day two and the final 3 races of the championship. Sunday involved more breeze and even tighter racing as teams started to get more aggressive and accurate on the start line. O'Loughlin and Peelo seemed to think they were allowed to start before the competition, but were being a little too keen on two occasions and were duly recalled by the race management in races 4, and 5.
Craig and Cooney from the RStGYC showed some excellent pace and moved themselves up into 2nd overall going into the final race. They were not to go all the way however as the event was already signed sealed and delivered with one to go. Greystones O'Leary and Williamson had delivered another excellent performance which is the norm for this very talented pair who defend their title and remain RS200 Eastern Champions for 2016.
O'Loughlin and Peelo finally decided to start with everyone else in race six. This proved to be a very solid strategy as they have plenty of pace and lead the final race from start to finish. Frank and Lisa worked hard and managed to claw back 2nd place, leaving Craig and Cooney to take bronze a point ahead of the Spains.
See you all at the next event.
Elaine Malcolm