Ballyholme Yacht Club RS400 Winners Gareth Flanagan and David Fletcher blasting along on Dublin Bay
It was a weekend of superb sailing for the RS Fleets in Dublin Bay.
Having the season opener in the east at the Royal St. George Yacht Club usually brings out a great fleet and that's what we had with 42 boats across the three RS fleets at the Championships this year reports David Rose. Full results are downloadable at RS Eastern Championship Results and also attached above.
The RS200's is a class that is heating up considerably this season, with lots of quality sailors already in the fleet and a real injection of fresh competitors in the dinghy park. A few boats are sporting the sharp new design see-through sails, which make the boats look great as well as giving a better view of traffic on the race course.
The standard in the RS400 fleet has yet again gone up a notch. It is now more like the racing standard at a UK nationals or Europa cup. Our Olympian and multiple Fireball national champion turn Race officer for the weekend Barry O'Neil and his team were impressed by the standard of starting. "It was like Olympic class starting, all boats finding a lane and no mid–line sag. Not much bad behaviour and if the line was not 100% square then it was always going to result in a recall."
Many thanks go to Barry and his team, including the mark layers giving their time on a bright but cold weekend. The team had to manage large wind shifts and did so admirably. A new format for the courses was being used for this event. The RS200's and RS400's were sharing the same windward leeward, rather than in previous events where the trapezoid course was used for the RS200's. This was making it hard for the OOD to adjust the course once the 200's were off. Barry has given feedback already to the classes, and this may result in tweaks for future events.
Michael Keogh provided results and photography at the weekend, and Michael Tyrell was race officer for the RS Feva class, running a separate course inside the harbour.
Thanks go out to Commodore Justin McKenna, Vice-Commodore Michael Pomeroy, RSGYC Members, and the many people giving their time both at registration and with the smaller details like helping with trolleys.
Sailing Conditions
Day one was light to medium conditions averaging about 12 knots out of the North. There was a sometimes tricky short chop and no shortage of oscillation on top of larger shifts that hung about for longer.
Day two had similar shifty conditions, again off the land and this time out of the North West, with more exciting gusts of 20 knots plus at times.
RS400 Easterns Report
What a weekend's racing for the 20 top class teams that fought it out for national-level honours this weekend. It's a testament to the quality of the field that there were five different race winners over six races. The runner up for this regatta, was to be two-time National RS400 champion Alex Barry with local sailor Conor Byrne as crew this time out. The pair were denied any race win in the series but were still extremely consistent as Alex has been for the last two seasons in the class.
Alex was gracious in defeat in round one of a long season and when asked for his thoughts on the weekend he said, "This weekend was exceptionally tight racing, in a fleet full of talent".
Day one saw the excellence of MBSC sailors John Downey and Sandy Rimmington. They put out their stall early with a superb 2, 1, 6, on a day where most people had at least one bad result. The score was only bettered by one team and by one point. Gareth Flannigan and David Fletcher (BYC) had posted a 1, 2, and 5. Robert Espey and Michael Gunning (BYC) were very well placed also carrying a 3, 11, and 1.
Looking further down the sheet, local RstGYC stars and ex national champion Emmet Ryan and James Ryan were lying ninth, and needed to post some good results. They were to open day two with considerably more form carding a bullet. They finished the regatta stronger than they started moving to sixth overall one place ahead of Corks David Rose and Ian Heffernan in seventh.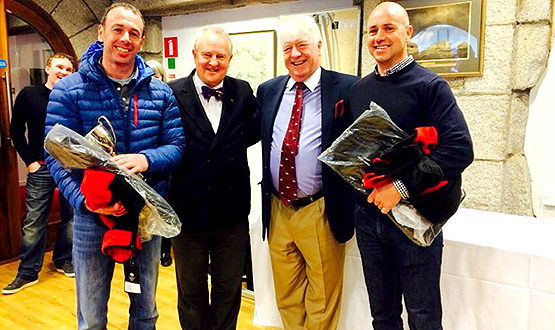 RS400 Winners (from left) Gareth Flanagan with Commodore Justin McKenna, Vice–Commodore Michael Pomeroy, and David Fletcher
On day two it was Espey and Gunning who showed they mean business with a 3, 2 putting them slightly ahead of the two MBSC boats vying for the title, but it was not to be and after carding a tenth that they had to carry, they dropped off the podium and had to settle for fourth place. Bob said afterwards, "Once you find yourself in the pack it's very hard to fight back".
Flannigan and Fletcher are a class act and signed off with a second place to finish a sublime regatta and are 2016 Eastern Champions.
Alex and Byrne were second and John and Sandy took 3rd place this time out.
Chris Penny and Simon Martin had a superb regatta and finished on a high with a win in race six and fifth place overall.
So the early season honours and silverware have headed north with Flannigan and Fletcher, the other top teams will want to ensure they don't have it all way and successfully pluck the Northern trophy from their grasp next time out.
Thank you kindly to our friends at Afloat.ie for this report and images.