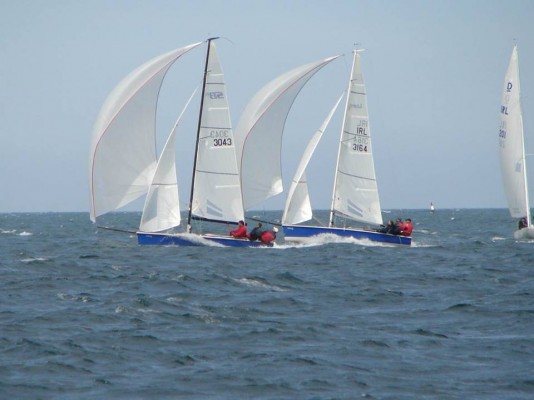 The SB20 fleet enjoyed white water surfing conditions this evening on Dublin bay with speeds in excess of 15 knots being reported and plenty of wipeouts, (in some cases multiple!), across the fleet. The OOD opted for the relatively long (but perfect for the conditions) N2 course meaning a decent beat to harbour mark would be followed by a wild sleigh ride back down the bay towards Dalkey island and plenty of reaching legs thereafter to allow the SBs to "get up and dance".
There was an individual recall at the start with the heavy pin bias and the flooding tide catching Bad Kilcullen out on their first venture out in Dublin bay this season. The rest of the fleet managed to stay clean and drove off the line on starboard towards the shore in a fresh F4 SW breeze. One by one the boats peeled off onto port with Sin Bin (Michael, Dave and John) and Alert Packaging (Justin, Henrik and Ed) holding on starboard the longest before flipping over onto the "lumpier" port tack. This paid dividends for those two as the tide caught most of the fleet out resulting in practically all of the boats over-standing by some margin. Sin Bin and Alert Packaging, closer to the mark when making their approach, fared better than most and rounded in first and second with several boat-lengths advantage on the chasing pack.
Around the mark, the kites went up and the boats took off! As the fleet hurtled towards Dalkey island at 15 knots, dancing across the waves, the crews struggled to tame the beasts and avoid expensive broaches. After the wild ride, a couple of short upwind/downwind legs followed testing the crews boat handling skills to the max, requiring slick hoists, drops and gybes to stay in the game. Unfortunately for Alert Packaging, they were caught out by a sudden gust on the second downwind leg causing them to spin out and lose valuable distance and places as they struggled to get the boat back on its feet. Unfortunately for Alert Packaging, in the melee that ensued, Venuesworld.com (Ger, Chris, and Peter), Sacre Bleu (Richard, Colin and Mark) and Sunday Brunch (Dave et al) were able to overtake them. The fleet gamely battled on and was treated to a screaming reach across the bay from bay mark out to east followed by a beat back up towards the harbour to finish.
At the finish, it was Sin Bin in first followed by Venuesworld.com in second and Sacre Bleu in third. The prodigal sons on Sunday Brunch battled back after an early broach to record another creditable fourth place finish ahead of Alert Packaging, Smoke on the Water (Bob et al) and Tiger Lite (Niall, Niallo, and Ronan). Although there were plenty of smiles after racing, the fleet learnt that we have plenty of things to practice before the next breezy day! Some good breeze forecast for this Saturday (on one of the prediction models anyway!) so we may get to put what we learnt into practice sooner rather than later…