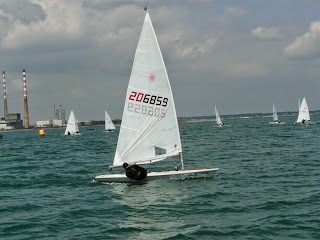 While there was only a small fleet of PY at Saturday's NYC regatta, the usual mob turned out for Sunday's DBSC Racing.
The day turned into a battle between Laser and Finn, with Richard Tate winning the first race by 20 seconds and Conor O'Leary winning the second race by 13 seconds. Tight all the way!
The Vagos from Sailing in Dublin wrapped up the remaining finishing spots on a good day for all. The OK Dinghy was missing on the day.
Dublin Bay Sailing Club Results for 19 June 2016
IDRA 14 FOOT Race 1- 1. Dunmoanin (Frank Hamilton), 2. Slipstream (Julie Ascoop), 3. Doody (J.Fitzgerald/J.Byrne)
IDRA 14 FOOT Race 2- 1. Dunmoanin (Frank Hamilton), 2. Doody (J.Fitzgerald/J.Byrne)
PY CLASS Race 2- 1. C O'Leary (Laser), 2. Richard Tate (), 3. P Ter Host (Laser Vago)
PY CLASS Race 1- 1. Richard Tate (), 2. C O'Leary (Laser), 3. P Ter Host (Laser Vago)
Article and image courtesy of Afloat.ie  and also DL Dinghies.ie