Feva Newsletter – Summer 2016
• 2016 Events
• Feva Nationals
• Coaching clinics
• Meet your coach
• Boat tips
• Team Racing
• Class Membership – hoodies!
• Keep in touch
• Buy and Sell
• Feva Easterns – Report
2016 Events
We have a busy summer ahead – particularly in July, with lots of events planned:
• July 9th/10th – Westerns – Galway Bay Sailing Club
• July 18th – 20th – Nationals – Greystones Sailing Club
• July 23rd/24th – Inlands – Lough Ree Sailing Club (with RS200s/400s)
• July 29th – Inter Club Feva Team Racing Championships – National Yacht Club
• August 20th/21st – Southerns – Monkstown Bay Sailing Club
• September 24th/25th – End of Season Regatta – Blessington Sailing Club (with RS200s/400s)
2016 Feva Nationals
The highlight of the year will be the Feva Nationals, this year taking place in Greystones Sailing Club, where we will have the use of their brand new club house facilities. The event is being held from Monday July 18th – Wednesday July 20th, with 10 races panned over the 3 days. There will be food available after sailing each day, and there are great social events planned for each evening, with Feva Olympics on one of the evenings! Coffee and scones will be available for parents after launching each day.
The Notice of Race will be available on the Greystones Sailing Club website and facebook page, and will be on the RS Feva Ireland Facebook page shortly.
We are hoping to get as many boats as possible to the Nationals. There will be overall prizes for 1st – 3rd, 1st girl helm, 1st U14, 1st U12, youngest combined crew and 1st non XL sail (to encourage those who want to sail with the training sails). There will also be prizes for each race.
On Monday after sailing we will be holding our Feva Association AGM – this is an opportunity for you to have your say in terms of what happens with your class. We would like to get a committee going to run the class, with both parents and sailors involved.
Coaching Clinics
There are a number of Feva Coaching Clinics taking place around the country this summer – and these are open to sailors from all clubs. The Royal St. George Yacht Club is holding 3 clinics:
• Clinic1 – Monday, June 20th – Friday 24th.
• Clinic 2 – Monday, July 11th to Friday 15th,
• Clinic 3 – Monday, August 8th to Friday 12th
Details and booking forms can be found at https://rsgyc.wufoo.com/forms/wslj4gc0nco2jc/
Galway Bay Sailing Club is holding a clinic from June 28th – 30th and Greystones Sailing Club have their clinic from July 4th – 8th.
Meet your Coach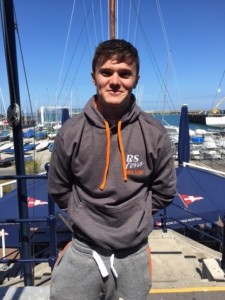 We are delighted to introduce our National Feva Coach – Stephen Craig. Stephen will be running the coaching clinics and will also be at all of the events to provide coaching and support to all Feva sailors. Stephen sailed a Feva for a number of years, then moved on to sail an RS200 and has recently made the move into an RS400. Stephen has been coaching in Fevas for a number of years and is looking forward to meeting all of the Feva sailors in the different clubs over the summer. Stephen can be contacted at Stephen.craig@live.ie.
Boat Tips
Here are a few boat preparation tips from ex-Feva sailor Greg Arrowsmith to get your boat race-ready for the season:
1. Line the inside of your spinnaker chute with duct tape, especially over the pole access hole. This will help speed up your hoists and drops, and will make your spinny last longer.
2. Tie a bowline in your main halyard on the end you pull on, which can be pulled onto the hook on the cleat on the mast (it's important that you can only hook it on when the sail is all the way up, so put it further up the rope if in doubt). This means you don't have to worry about the main halyard slipping and it leaves the cleat free for the downhaul.
3. Put hose pipe around the bottom of your stays. This will make the stays last longer and stop gear ripping on them.
4. Tie the ends of your jib and spinnaker sheets together to make them continuous. This will help you in tacks and gybes and will stop the ropes getting knotted or going over the side.
Anyone looking to work on some of their technical skills should have a look at these tutorial videos made by Olympic gold medallist Shirley Robinson. https://www.youtube.com/watch?v=13x1f04HqxM&list=PLXOHx116ezKfkyBLEgGzxhEgppSIYIeqG
Feva Inter Club Team Racing – Friday July 29th – National Yacht Club
The National Yacht Club has kindly offered to host an Inter Club Feva Team Racing event in July. Team Racing is one of the most enjoyable forms of racing, and it's great to start learning about team racing at an early age. Many of our countries best sailors have been active team racers in college and beyond.
Team racing involves each team of 3 boats competing against another team of 3 boats, aiming to get a winning combination. So see if your club can get a team of 3 Fevas together for the event – or more than 1 team if you can! More details on this to follow.
Class Membership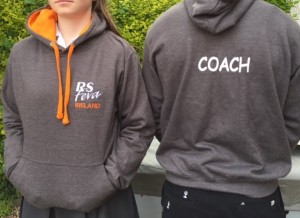 Anyone competing in any of the regional events needs to be a member of the Irish RS Feva Class Association. The cost of membership is€5 for one event or €25 for the year, which covers all of the events.
Those who join for the full year will get a special edition Feva hoodie (worth €35). We are delighted to see all of those who took part in the Eastern Championships proudly wearing their Feva hoodies around the dinghy parks, and hope to see more as the summer goes on.
Stay in Touch
The Feva Ireland website is currently under reconstruction, so we are using our facebook page as a means of communicating what's going on in the class. Like the RS Feva Ireland Facebook page, and keep up to date with what's happening in the class.
Buy and Sell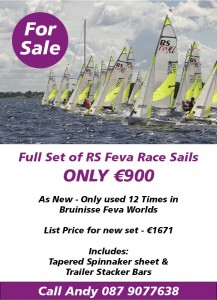 If anyone is looking to buy/sell/charter a Feva, use our Facebook page to let people know. Apollo duck and the Buy and Sell section on the RSGYC website are also good sources of Fevas for sale.
For Sale – RS FEVA 1774, complete with new main and jib 2014, training sails all dry stored, Harkin mainsheet block pintel spring and cleviss pins replaced, top cover, launching trolley and road trailer. RStG Yacht club. Cost €2,700. Phone 087 7442058.
And here's an opportunity for anyone looking to buy a second-hand set of sails.
Feva Easterns – Report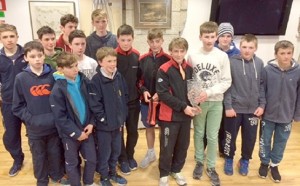 In order to encourage the newer members of the RS Feva class this year, the Eastern's were sailed on a separate course inside Dun Laoghaire harbour. The 11 boat fleet, under the capable race officer Michael Tyrrell and his team, had 8 races over the two days.
Local RSGYC sailors Henry Start and Morgan Devine were to master the conditions and win the event. They were challenged all the way by newcomers to the class, Tim Norwood and Finn Cleary from RIYC. The pair had stolen a march, winning three of the four races in light winds on Saturday.
Third place went to Marcus O'Leary and Jeff McGovern who just edged out the all-girl crew of Emily Arrowsmith and Ciara Little. Malahide brothers Liam and Aidan Donnelly carded three third places on Sunday, showing their potential going forward.
Thanks go to our coaches at the weekend – Phoebe Norwood and Meg Tyrrell, who provided plenty of encouragement all weekend. Congratulations to all who competed in the RS Feva Easterns.
Here's to a great summer of Feva sailing – enjoy!!!
Elaine (Malcolm)
Feva Class Captain