Our very own club sailors Tom Higgins and Conor O'Beirne were nominated for the Volvo Youth Sailor of the Year 2016.
Congratulations Tom and Conor, you are both an inspiration to other young sailors.
With sacrifice, passion for sailing, determination and fun you have proven anything is possible to reach your dream. We are all very proud, and hope the future of our young sailors at the RStGYC will aspire to greatness following your accomplishments.
Irish Sailing Awards, Royal Dublin Society, Dublin 27/1/2017
Volvo Youth Sailor of the Year Nominees
Tom Higgins with David Lovegrove (ISA President) and Patricia Greene (Head of Communications – Volvo Car Ireland)
Mandatory Credit ©INPHO/Gary Carr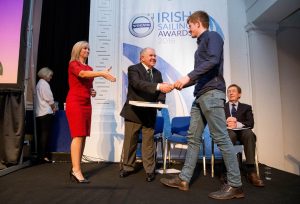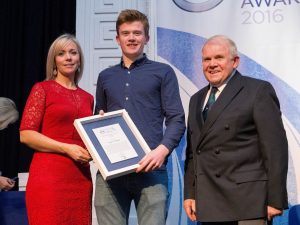 Irish Sailing Awards, Royal Dublin Society, Dublin 27/1/2017
Volvo Youth Sailor of the Year Nominees
Conor O'Beirne with David Lovegrove (ISA President) and Patricia Greene (Head of Communications – Volvo Car Ireland)
Mandatory Credit ©INPHO/Gary Carr