On Saturday 4th of March, marked our Annual Oscar Sailing Awards. The evening is dedicated to our members who are recognised for their sailing achievements throughout the year, and their contribution to the club. With the Red carpet laid out, Prosecco flowing, members young and old dressed for the occasion, and enjoyed a memorable Black -Tie and Galla dinner.
The topic of conversation were the nominees and suspected winners, but among those were announcements of the arrival of the club's new Committee Boat, our 3 new Tornado Ribs, the upcoming Anglesea Cruise 2017 (More on this to follow) and the Laser Master World Championships, an event which we will have the honour of hosting in 2018. More here: P Point presentation Final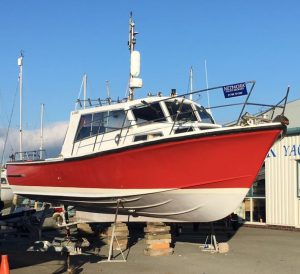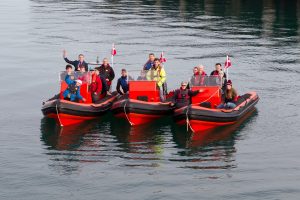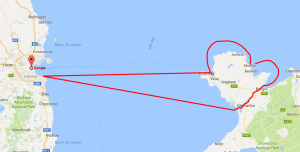 Award Categories were as follows
The Commodores Cup (Best offshore performance)
Vice Commodores Cup (Significant dinghy performance)
O'Hanlon Cup (Best cruise)
Enriquetta Cup (Significant keelboat performance)
Causeway Trophy (For Sportsmanship)
Youth Trophy (Significant Contribution to the Club by a Youth Sailor)
The list of nominees were
Commodore's Cup (Best Offshore Performance)
Chris Power-Smith and crew – For a winning offshore season on Aurelia as the Best Irish boat overall in ISORA
Jerry Collins Jerry & Crew – Sailed a challenging Round Ireland on his boat Persistence and finished 19th overall.
Vice Commodore's Cup (Significant Dinghy Performance)
Sean Craig 1st overall at the Flying 15 Southern Championship in Waterford Harbour SC, RS Aero success in Italy
Tom Higgins – Multi champion in the Optimist
Jack Fahy – National Irish Topper Champion
Henry Start & Morgan Divine – RS Feva National Champions
O'Hanlon Cup (Best Cruise)
Alan McMahon and crew on board Esperanza – Sailed singlehanded from Galacia NW Spain across Biscay to Dun Laoghaire non-stop. 660 miles over 6 days.
Christine Heath Europe cruise aboard Gusto with her dog Nimbus and crew
Enriquetta Cup (Significant Keelboat Performance)
Cannonball Trophy team for their triumphant victory in Muiden, Netherlands.
Brendan Foley and crew aboard Running Wild Dominating Dublin Bay Sailing in 2016
Martin Byrne & Jaguar Sailing Team. 2016 Dragon National Champions. 4th in the Edinburgh Cup
Fergus Mason and crew aboard Viking, a Shipman 28 enthusiastically raced with great dedication. Prizes won in 2016 include The George Arthur Newsom Memorial Cup, multi DBSC Success
Dragon- Phantom & crew, East Coast Champions, strong showing in Edinburgh Cup coming in at 5th place
Prof – O'Connell – Melges 24 World Championships aboard IRL 829 "Embarr" – 1st (spinnaker trimmer and strategist). Round Ireland Race aboard J109 "Euro Car Parks" – 1st in class, 5th overall (helmsman and watch leader IRC Nationals aboard "Jump Juice" – 1st IRC 0 (mainsheet trimmer and strategist)
Causeway Trophy (For Sportsmanship)
Rachel Donoghue for her Outstanding contribution to WeSail
Conor O'Leary -The person you want to have around for his infections sailing enthusiasm.
Alain Deladinnee for his tireless work with Access Sailing
The Little Family for their industrious work at KBC Laser Radial World Championships
Youth Trophy (Significant contribution to be the Club by a Youth Sailor)
Greg Arrowsmith Team Racing contribution
Conor O'Beirne Top Laser Performances representing Ireland, ISA award winner.
Kate Lyttle / Niamh Henry Kate Lyttle along with crew Niamh Henry were Irish 420 Ladies National Champions in 2016
Congratulations to the following Award Winners.
Commodore's Cup (Best Offshore Performance) – Chris Power-Smith & the crew of Aurelia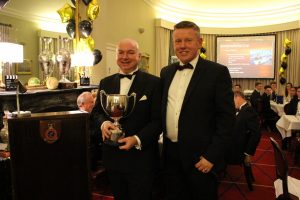 Vice-Commodore's Cup (Significant Dinghy Performance) – Tom Higgins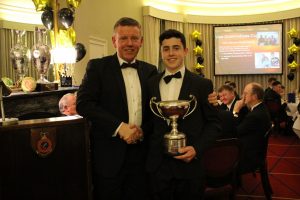 O'Hanlon Cup (Best Cruise) – Christine Heath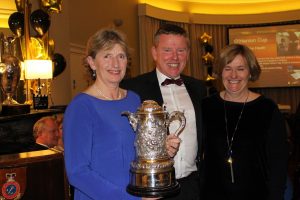 Enriquetta Cup (Significant Keelboat Performance) – Brendan Foley and the crew of Running Wild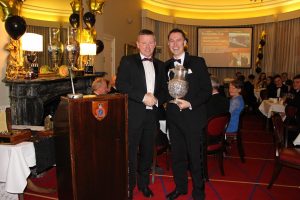 Causeway Trophy (For Sportsmanship) – Rachel Donohoe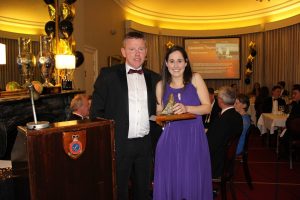 Youth Trophy (Significant Contribution to the Club by a Youth Sailor) – Kate Lyttle and Niamh Henry