Minute's silence in remembrance of John Moran former employee of the RSGYC.
100 Years ago to the day the RMS Connaught was torpedoed and sunk by German submarine U-48 on 3 March 1917. In this photo we see Robert Moran, grandson of Able Seaman John Moran who worked at the RSGYC before his time aboard the RMS Connaught . Able Seaman John Moran was one of three crew lost in the sinking.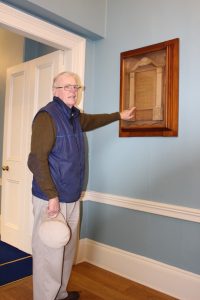 Robert was a guest of the RSGYC on the 100th anniversary of the sinking of the Connaught and loss of his grandfather. This was marked with a minute's silence.
The RMS Connaught was a steamship built in 1897 and operated by the City of Dublin Steam Packet Company for Royal Mail as well as passenger service. Connaught was the second ship of this name operated by the line. She was torpedoed and sunk by German submarine U-48 on 3 March 1917.
The RMS Connaught was a twin-screw vessel powered by an eight-cylinder steam engine, capable of 24 kn (28 mph; 44 km/h). She grossed at 2,646 long tons (2,688 t) and had a length of 377 ft (115 m).
With the First World War in progress, Connaught was commandeered in 1915 by the British War Office and pressed into service as a troop carrier. Having transported troops the previous evening, on 3 March 1917, Connaught was returning to Southampton from Le Havre. At about 13:45, submarine U-48 fired a torpedo which exploded aft on the starboard side. The ship's wireless was disabled, so an S.O.S. could not be sent. 15 minutes later, a second torpedo struck amidships on the port side. Three crewmen having been killed, the rest of the crew took to the lifeboats. Connaught sank within four minutes of the second torpedo striking. The sinking occurred in the English Channel about 29 mi (47 km) south of the Light Vessel Owers.
Those lost in the sinking were:
We would like to thank Mr. Moran for allowing us to be part of this special occasion.