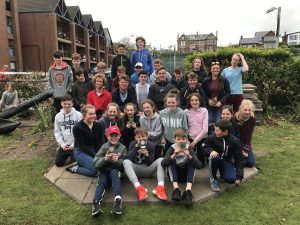 ---
Congratulations to all of our sailors who competed at the 2017 Optimist Trials at Ballyholme Yacht Club in Bangor from the 20th to 23rd April. Thirteen races were held over four days of intense competition in medium to very light conditions.
Fourteen sailors from the George qualified for and competed at the trials as part of the wider DOGs group formed from the combined Dun Laoghaire clubs. The continued success of the DOGs programme and our sailors was confirmed by the number of places on teams being filled by the DOGs.
Congratulations to Johnny Flynn who finished fourth overall with an ISA medal. Emily Riordan received an ISA medal for first girl and was placed eighth overall in an extremely competitive fleet. Alana Coakley will represent Ireland at the World Championships in Thailand in July. Johnny Flynn, Emily Riordan, Kitty Flanagan and Iseult Hogan will represent Ireland at the European Championships in Bulgaria in July. Trevor Bolger made the International Development Team (IDT) France in July while Archie Daly, Jacques Murphy and Grace Fahy made the International Development Team competing in Poland at the beginning of June. Finally, well done to Grace Fahy and Peter Williams for making the Under 12 Squad for the British Nationals.
Special thanks go to David Bolger and Billy Riordan who masterminded and coordinated the DOGs programme and our head coach Pieter Van den Bossche and his team of Irish and International coaches for all their hard work in training our young sailors to compete at this level.
Many thanks to Ballyholme Yacht Club and all of their volunteers for their warm welcome and hosting a super event.
---