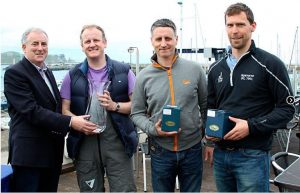 RSGYC Weekend Sailing Wrap Up
Last weekend was a busy one for RSGYC sailors with sailors competing in Howth Yacht Club in both the RS Feva, RS200 and RS400 Eastern Championships along with SB20 Sailors competing for their SB20 Eastern Championships. Also last weekend up in Ballyholme the ISA Youth Pathway National Championships 2017 took place. All events had strong representations of RSGYC Sailors.
---
Congratulations to all RSGYC sailors who proudly flew the Flag for the RSGYC.
---
RS Feva Eastern Championships 2017
Particular mention to the newly crowned RS Feva Eastern Champions 2017 Henry Start and Morgan Devine who sailed a superb regatta. Well done also to fellow RSGYC sailors Marcus O'Leary / Oscar Lubliner who were 5th overall and their Club fellow Club members also competing Elysia O'Leary / Lorcan Little in their first Easterns together with Robert O'Connor / Harry Roche all who had a great time. The Feva class is enjoying continued popularity at the RSGYC with the mix of a good double hander boat which promotes friendship along with fun racing and good times ashore.
---
SB20 Eastern Championships
Congratulations also to Royal St. George Yacht Club sailors Michael O' Connor and Owen Laverty with Ed Cooke aboard 'Sin Bin' who also proudly took the silverware this past weekend in Howth Yacht Club. 'Sin Bin' was the overall winner of the 2017 SB20 Eastern Championships at Howth Yacht Club. As is often the case with the SB20 fleet, racing was tight and came down to the final day. RSGYC was also proudly represented by the crews of 'Timber' (Marty Cuppage, David Bailey and Chris Chapman) and 'Sunday Brunch' sailed by David Dwyer and crew along with Chris Arrowsmith aboard 'Sacrebleu'. Full details can be found here on Afloat.ie.
---
An awesome turnout of sailors, volunteers, and parents at the ISA's Youth Pathway National Championships this year, with a record turnout for new hosts Ballyholme Yacht Club in Bangor.
The RSGYC was very well represented at the ISA Youth Pathway National Championships this year with 28 sailors proudly flying the flag for the Royal St George Yacht Club in what was a super regatta.
---
Laser 4.7 Class
Congratulations to National Champion Jack Fahy who took first in the Laser 4.7 class, closely followed by Tom Higgins in 5th with Helen O' Beirne hot on their heels in 11th. Sarah Fogarty, Finn Walker, Ben Hogan , and Luka Flanagan followed in a very competitive fleet.
---
420 Class
In the hotly contested 420 fleet, the Royal St. George Yacht Club was represented by Kate Lyttle and Niamh Henry who were third overall, with only one point separating them from 2nd place. Grace O' Beirne & Katherine Kelly sailed a great regatta and were 6th overall out of the 16 boat fleet.
---
Laser Radial Class
In the uber competitive Laser Radial Class there was a scattering of past champions battling it out in the 43 boat fleet. The Royal St. George Yacht Club was proudly represented by Peter Fagan, Henry Higgins and Hugo Kennedy who finished 5th, 6th and 7th respectively. Followed by Toby Hudson-Fowler and Tara Coveney in 16th and 17th respectively.
---
Well done to all Royal St. George Yacht Club sailors, you're Club is proud of you.
---
Photo Credits to the RS Feva Ireland Facebook page
and to Afloat.ie
Full event report, photographs and videos can be found here: https://www.sailing.ie/2017youthchampions/