This month we mark the 200th anniversary of the laying of the first stone of Dun Laoghaire Harbour. On May 31st President D Higgins will officially open a busy 6 months of art, drama, food and historical events.
On the 16th May the Gallery Dalkey presented an exhibition in conjunction with Dun Laoghaire Harbour Bicentenary Group to commemorate the historic year.
Peter Pearson, a local historian, author, and artist involved in the Bicentenary celebrations will feature pieces from his collection since the 1970's.
The Maritime aspect of Dun Laoghaire, its Harbour seafront, sailing boats, yachts and car ferries remain a lifelong influence for Peter.
Other artists showing will be Yvonne Moore, Mary O Connor, Keith Dixon, Sonya Kinch, Rod Coyne, Brigitte McGovern, Leonard Sexton,
John Short, Maureen Boalch, Tania Tsaryk, Denise French & Jacqueline Holohan.
Speaking about the summer of events ahead, CEO of the Dun Laoghaire Harbour Company, Gerry Dunne, said: "This Contemporary Art Exhibition is one of over 25 free events taking place to commemorate our Bicentenary year.
---
The Exhibition opened on Tuesday 16h May and will continue until Sunday 5th June from 11:00 – 17:30 (Closed Mondays) at the Ferry Terminal Building. Entry is free and open to the public. Paintings are available for sale.
Notes:
The Dun Laoghaire Harbour Bicentenary Group is a non-commercial group of local interests –
Patron Minister Mary Mitchell O Connor, An Cathaoirleach Cormac Devlin, Chairperson Donal Marron, Eithne Scott Lennon Chairperson of Dun Laoghaire Harbour Company, Fáilte Ireland, DLR County Council, RNLI Dun Laoghaire, Dun Laoghaire Combined Yacht Clubs represented by local Historian Rob Goodbody, The Pavilion Theatre, The National Maritime Museum of Ireland, Dun Laoghaire BID, Coal Harbour Users Group & the Irish National Sailing School.
Images attached
Peter Pearson – All work is Oil on Canvas.
Keith Dixon – 'East Pier, Dunloaghaire' – Photograph on diabond

Yvonne Moore- 'From Joyce's Tower' Oil on canvas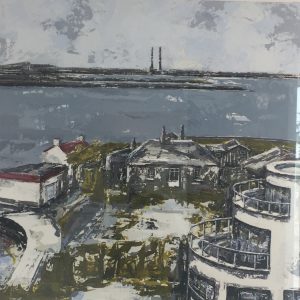 Sonya Kinch – 'Tidal Pools' 168 x 119 porcelain Clay Large wall sculpture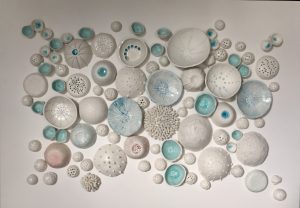 Bios
Peter Pearson
The main exhibiting artists is Peter Pearson who was born in 1955 in Dunlaoghaire. He was brought up and went to school in the same area, and his work both in writing and painting reflects his love and knowledge of Dublin and it's Bay. He is firstly an artist, but is also a passionate Historian, Conservationist and an Author. Peter has been involved in numerous important publications, 'Dunlaoghaire – Kingstown', 'Between the Mountains and the Sea', 'The Heart of Dublin', 'Dublin's Victorian Houses, 'Decorative Dublin'. He is involved with various heritage bodies such as Dublin Civic Trust, An Taisce and the Irish Georgian Society.
Siobhan Bastable – The Gallery Dalkey
Siobhan Bastable currently runs the Gallery Dalkey, Castle Street, and Dalkey. This is a contemporary Gallery showing new Works from Irish Artists, which include Peter Pearson.
She holds a Diploma in Fine Arts from the IPAV, and she also studied The History of Art at Trinity College Dublin, concentrating on 15th Century Florenteen painting. Siobhan also paints and loves working metal including Silver and Gold.
In 2001 Siobhan founded the William Frank Gallery in Monkstown which she ran until 2007. After this she continued to run exhibitions in leased premises and concentrated on Cultural trips to France, Spain and Italy bringing approximately 12 patrons on each one. The lecture series that she held on a monthly basis also proved very successful, these lectures would start at 15th Century art and continue through the different periods, ending with late 19th Century painting.
We welcome members of the public to get involved and find out more by logging on to dlharbour200.ie"