Junior Summer Sailing Report
---
Our first course of summer 2017 at the Royal St George Yacht Club has been lots of fun to be part of, with lots of sailing and other activities taking place despite some very challenging windy days! Good progress has been made by all trainees on their levels and we have some very promising future sailors coming up through the ranks in the next few years. We are now midway through course B and have had some nice weather for a change!
All our levels have been out on the water both morning and afternoon almost every day, with our advanced sailors really getting a taste for the thrill of heavier wind sailing.
For the days with un-sailable wind, we have run whole course events such as table quizzes, games and of course, wet theory.
Each Friday of the summer courses we have "Fun Day Friday" where all levels take part together in fun activities in the afternoon including pentathlons, 'fat paddy', 'king of the topper', jetty jumping and pushing instructors into the water, which is usually the favourite.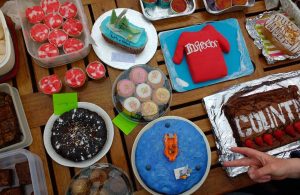 On the last Friday of each course we have our famous cake day where the kids are encouraged to bake and decorate a cake to a theme, our theme for course A was instructors!
We also came across some of our neighbouring Clubs praddles so we decided to hold them hostage for a short while…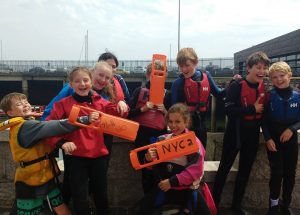 Looking forward to course C, we have our junior regatta on Wednesday 26th July which is open to all junior competitors from all the clubs. We are also running the popular Adventure Sailing course in C. This course will have an away overnight trip with lots of day sailing and other activities. Places are filling up so book soon.
There are some places left for course C so we encourage you to sign up soon to get a place on the course.
To sign up visit our page by clicking HERE
or alternatively contact the Junior Sailing Office by emailing juniorsailing@rsgyc.ie
---