1,2,3 for Dun Laoghaire clubs in laser 4.7 fleet at Wexford Harbour Boat and Tennis Club
The RSGYC was well represented at the recent Laser Connaught and Laser Youth National championships in Wexford Harbour Boat and Tennis Club. Our youth sailors acquitted themselves admirably across both 4.7 and Radial fleets, with many taking home prizes.
In the 4.7 fleet, Jack Fahy and Tom Higgins kept up their recent winning form and came 1st and second respectively, in both the Connaught's and Youth Nationals. They now travel to the 4.7 World Championships in Belgium, as part of the Irish team, at the end of this month, and we wish them both the very best of luck. Our only other club sailor in the 4.7, was Sarah Fogarty who finished in 9th position, and 4th Youth lady.
In the highly competitive and hotly contested Radial fleet, Henry Higgins was our most successful competitor, there were not only titles for the Connaughts and Youth Nationals up for grabs but this was also a qualifying event for the ISAFs, so the competition was fierce. Henry finished 6th in the Connaughts and 4th in Youth Nationals, following close behind him and within the top ten, in Youth Nationals, Toby Hudson-Fowler, Peter Fagan and Tara Coveney, finishing 8th, 9th and 10th respectively. Tara also finished in 4th position in the Ladies Championship. Also representing the 'George in the radial fleet were Richard O'Rahilly and Jamie Matthews. Well done everyone – some great sailing, yet again, by our younger members. See you all in Rush Sailing Club, for the Leinsters!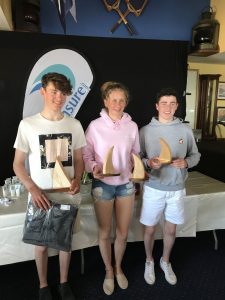 1st place Jack Fahy – RStGYC
2nd Tom Higgins – RStGYC
3rd Clare Gorman – NYC