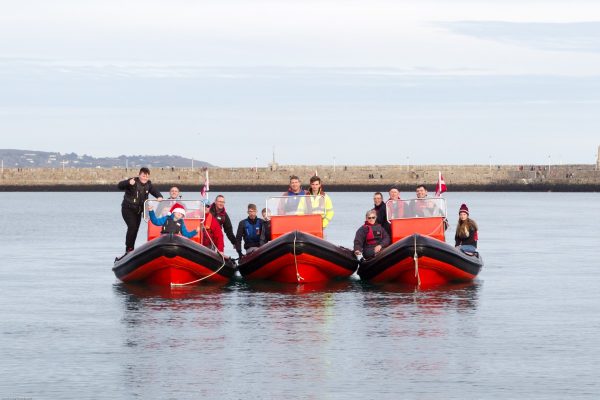 About the Safety Boat Course
This course is designed to provide candidates with the skills and techniques required for recovery techniques for various craft and fleet management, and to teach the skills necessary to be able to provide safety cover in a racing or training environment. The course is conducted in accordance with the standards laid down by Irish Sailing. Successful candidates will be awarded the Irish Sailing Safety Boat Certificate.
The course will involve both shore instruction, and instruction afloat. By far the most time will be spent afloat and this allows the candidate to gain as much hands on experience and practice as possible. Therefore it is important that the candidates are properly equipped.
Who can take the Safety Boat Course
In order to qualify to undertake the Safety Boat Certificate, to the syllabus as set by Irish Sailing, a participant must first obtain the National Powerboat Certificate.
Minimum age is 16 when taking the Safety Boat course.
Course Duration
Two days – April 21st & 22nd 2018. Candidates must participate continuously on both days to be eligible for assessment on the last day.
The course will start at 08.45 am sharp on both Saturday & Sunday mornings in the Royal St George Yacht Club. Initially there will be a briefing, which will explain the format of the course, and what activities are planned. Lunches will be available in the Club. Candidates may wish to bring a thermos flask for hot drinks during the day.
Minimum requirements each candidate should bring for going afloat are:
Lifejacket / Buoyancy Aid, of suitable size
Dry suit / Offshore Suit / Waterproof & Warm Clothing
Warm undergarments (fibre pile recommended)
Headgear and Gloves
Sea Boots/Boots/Shoes (not black soles and NOT trainers)
Detailed Course Syllabus from Irish Sailing
The syllabus covered will cover all points laid down under the Irish Sailing Training scheme which can be viewed by clicking here:
Course Cost
RSGYC Club Members €100
RSGYC Guests €185
To register for this course
Click here to register.