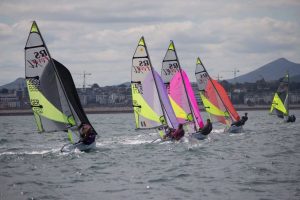 Feva Sunday Training sessions run weekly from 12 noon to 4 pm – suitable for beginners and improvers. The RS Feva is an international class double-handed dinghy typically sailed by 11 to 15-year-olds, perfect as a transition class and for developing sailing skills.
Coaching Details:
The coach will be available for rigging queries from 12 noon. Please leave enough time to be rigged and ready for briefing at 12.30. On the water after briefing by 1pm, Off water between 3-3.30 pm followed by a debrief
Please ensure you bring a packed lunch and water for after sailing. Credits/ refunds will not be issued for missed sessions as a result of weather but can be applied to future training series.
The training cost has been budgeted as per expressions of interest received.
Please note that a minimum of 3 boats are required for coaching to take place. If there are not 3 boats signed up by Friday noon the coming Sunday session will not run.
Parent Support:
It is important for you to be involved in your child's sailing and to assist for a couple of sessions. For this reason, we ask that a parent or guardian make themselves available for 1 'Parent Support' sessions, please enter your available dates below.
A current Summer Parking Permit is required for all boats on the Forecourt. Parking is not included in the coaching fee.
To register please click here: Sign up now!
For more information or if you'd like to be added to the Feva coaching WhatsApp group please email georgefevas@gmail.com
---
Parental Support:
As with all Club activities, the success of which depends largely on the assistance of parents. We require a parent to assist each Sunday with launch and recovery and slip duties. Don't worry, no experience is required and we will have a fellow parent to show you the ropes each day. This is a great way to become involved with the Class your club. Please select the dates you are available to assist on the form.
---
Powerboat Training Course:
For those of you who would like to learn to safely operate the Club ribs, we will be holding a weekend Irish Sailing certification course for National Powerboat Level 1 & 2. If you are interested in this course, please take a moment to review the course details and dates. Next course dates are the 5th/ 6th May. Click here for Powerboat Information.
Questions/ Comments:
If you have any questions or comments, please feel free to contact Bonita at sailing@rsgyc.ie who will be happy to assist.
Here's to a good start to the summer sailing season on Sunday and that you will be able to attend.
---
To register please click here: Sign up now!