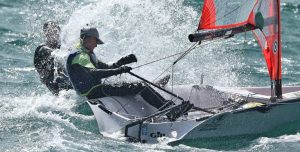 Thursday last saw the inaugural 29'er National Championship hosted by the RSGYC. With record entry, great race management and support both ashore and afloat the event was a resounding success.
The RSGYC has been pushing to build and promote the 29'er class and it was great to see nine boats on the start line for the first National Championship. As a ISAF Youth Worlds class the 29'er is proving very popular for those that sail and compete in the class.
For a full event report & some super photos please click over to our friends at Afloat.ie.
Special thanks to Deutsche Leasing for their very generous support of the National Championship event.
More details on the 29'er Class can be found by clicking here.
The RSGYC is looking forward to continuing to support the class and welcome new boats that are on the way. It is expected that there will be training sessions 2 – 3 times a week into the winter and beyond. If you would like to get involved in this exciting class please contact us.