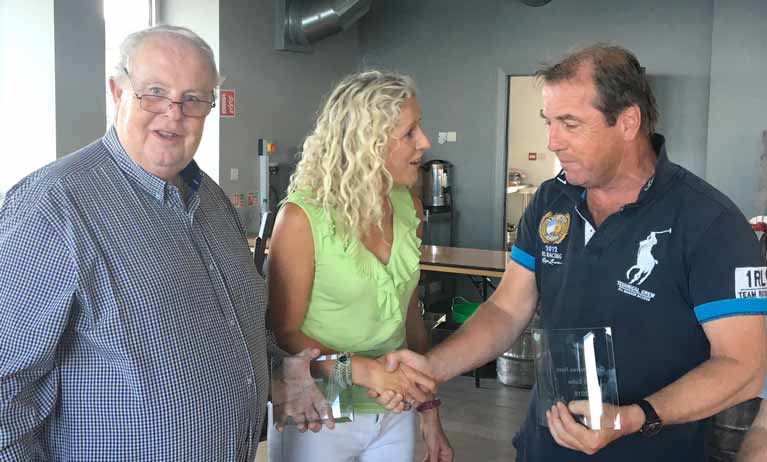 Photo Credit Afloat.ie
Gwilli Two skipper Paddy Maguire (left) is presented with the Class's Nightcap Trophy by Greystones Sailing Club's Darragh Cafferkey. DBSC Cruiser Two Captain Adrienne Jermyn (centre) won the ECHO prize on Helterskelter
Dermot Clarke and Patrick Maguire's Sigma 33 Gwilli Two was the winner of Dublin Bay Sailing Club's Cruiser 2 Coastal Race to Greystones Harbour in County Wicklow on Saturday by the narrowest of margins.
After nearly two hours of racing in 20–knots, Gwili Two won by less than one foot at the finish from clubmate Richard Lovegrove in the sister ship, Rupert. In a clean sweep for the Sigma 33 design under IRC rating, Henry Leonard's & Bobby Kerr's Leeuwin from the Royal Irish Yacht Club was third.
RSGYC's Helter Skelter sailed by DBSC Cruiser Two Captain Adrienne Jermyn won the ECHO prize on Helterskelter.
Well done to all that competed in what was a very exciting race.
Thank you to our friends at Afloat.ie for the report and photo above. More photos and details can be found at www.Afloat.ie