Michael O'Connor and the Sin Bin crew of Ed Cook and Davy Taylor took third overall and the top Irish result at the SB20 European Championships held at the Royal Irish Yacht Club.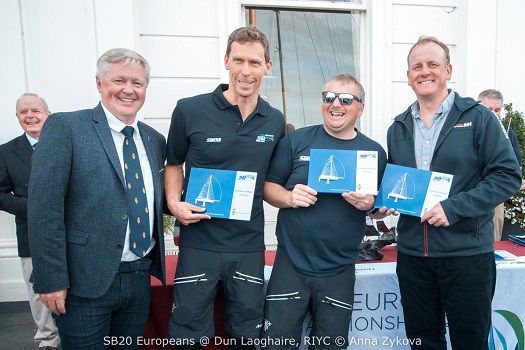 Photo credit Anna Zykova
Our friends over at Afloat.ie have a great article about How SB20 'Sin Bin' Prepared for European Championships Success
Here, the Royal St. George Yacht Club helmsman, who won the Corinthian World Title in Cowes in 2017, details his campaign preparations that led to bronze medal success on home waters.
Now that the dust has begun to settle after the 2018 SB20 European Championships, I have been asked to put together some notes on our preparation for the event. Everyone approaches these things differently and I am not suggesting that how we prepared was better or worse than any other campaign, this is simply an account of what we did to prepare ourselves as best we could.
It seems to make sense to divide the notes into two separate stages: (1) preparation before the event (sailing and boat preparation); and (2) preparation during the event…… for the full article click here:
Congratulations to Michael and the Sin Bin team!